Press release
On Friday March 24th, Spellbinder Books in Bishop will be hosting a history program and book signing event with local authors and Owens Valley residents David and Gayle Woodruff, introducing their new Eastern Sierra history book; Tales Along El Camino Sierra.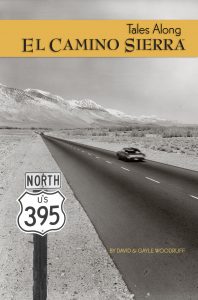 The Woodruffs have lived, worked and vacationed in the Eastern Sierra for over 50 years.  They have compiled historical photographs and documents through extensive research, using a variety of educational and informational resources to publish their 3rd book on Eastern California history.
El Camino Sierra was the name first given to the original Highway 395 in Inyo and Mono Counties.  In 1910, intent on getting their share of the first state highway construction bond measure, members of the Inyo Good Roads Club coined the name El Camino Sierra as a marketing tool to help draw the attention of the state decision makers in Sacramento, to this lightly populated area of the state.  Their tireless and effective promotional efforts even brought the first sitting governor of the State of California to the land of Inyo and Mono.
The 35-minute program will feature a slide show of historic photographs of people, places and events, that were part of Eastern California's early struggles to bring good roads to their region and the tremendous affect it would have on bringing tourism and commerce to Inyo and Mono counties.
The history program and book-signing event will be held at 6:30 p.m. on Friday March, 24 at Spellbinder Books in the Pupfish Cafe.
The Woodruffs will also have on display El Camino Sierra ephemera, photos and memorabilia from their personal collection. Light refreshments will also be served. For more information, you can call (760) 873-4511