PETS of the WEEK – February 21, 2013
PORKY is a 10-week old mixed breed pup. He came in with his four siblings, who have all been adopted. Well, you know what they say "We saved the best for last!" And Porky is a peach of a pup! Super mellow, just wants to crawl into your lap for a snuggle.
EMMA is a beautiful, 3-year old purebred tri-color Australian Shepherd. Her owner moved and couldn't take her to the new "no pets" living quarters. Emma deserves a future with a committed adopter who will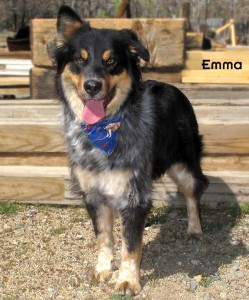 give her a wonderful life.

The Inyo County Animal Shelter has an amazing selection of adorable cats and lovable dogs. Please adopt one today. Visit in person on County Road in Big Pine or on-line at
www.ICAREforPets.org
. HOURS: Tuesday thru Friday, 10 am to 3 pm, Saturday and Sunday 11 am to 4 pm (closed Mondays). Phone 760-938-2715. Photos by Lisa Schade of ICARE