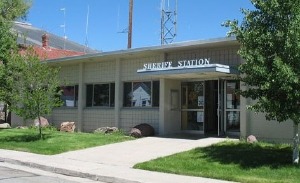 (Press release from Mono District Attorney)
In early April 2012, the District Attorney's Office was alerted to an allegation of misappropriation of funds from the Bridgeport Public Utility District.  The District Attorney's Office opened an investigation which revealed that former General Manager Cheryl Goode issued herself numerous unsubstantiated payments.
An arrest warrant charging misappropriation of public funds was sought, and on May 17, 2012, Mrs. Goode turned herself in at the Mono County Jail. Mrs. Goode posted the bail amount of $25,000.00 and is due to appear in the Superior Court, County of Mono on June 5, 2012 to face charges of misappropriation of public funds.