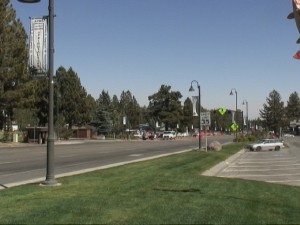 The Mammoth Town Council earlier said okay to the plans to overhaul Main St. Plans that would possibly eliminate Frontage Road, create on-street parking and lots of walkways and landscaping. So, what role will Caltrans play since Main St. doubles for Highway 203?
Mammoth Public Works Director Ray Jarvis said he has met with Caltrans officials about the project and finds the relationship with the State "very good." Jarvis said they are open to ideas and willing to work with the Town on the revamp of Main St.
Jarvis made it clear that the Town has not proposed a change in the configuration of Highway 203. He said plans call for some form of median with the potential of gondola stations down the center. That's part of the plan, Jarvis said, that needs a firm answer.
The new Main St. would still see two lanes in each direction, maybe on-street parking, bike lanes, no Frontage Road and walkways. In the far future, Jarvis said, in terms of redevelopment, possibly businesses would move. That's very long-term if at all.
Snow removal would change. Jarvis said to keep Main St. walkable, crews can not blow snow on sidewalks. He said potentially, the Town could do the snow removal and businesses could contribute to a Benefit Assessment District. The snow pit outside of Town still has plenty of room for more snow storage. Jarvis sees the need to start making "incremental changes" to move forward with the major project. "We need to iron out how this project will be phased in," he said, "and answer the gondola question."
CARSON AND COLORADO 9-16-10
A train ride from the highway to the museum? That's the dream of the local group, Carson & Colorado. This week the Inyo Supervisors said yes to the local group to provide volunteer services for the restoration of Engine 18 that sits at the edge of Dehy Park in Independence.
The engine points toward Highway 395 and does attract tourists who like to stop, take their pictures by the big engine and maybe even ring the bell.
The Inyo Supervisors approved a contract between the County and the Carson and Colorado Railway Society for volunteer services, plus acceptance of LADWP terms to conduct restoration activities at Dehy Park, owned by the City.
The long-term vision of the society is to set rail tracks and run Engine 18 to the Eastern California Museum not far from Dehy Park. Grant money may exist for that. The society volunteers will first work on the big engine itself.
In fact, they have invited the public to their locomotive restoration work day Saturday, October 2nd at 9am at the park. They will continue removing plumbing around the boiler and cab, remove air reservoirs and much more.