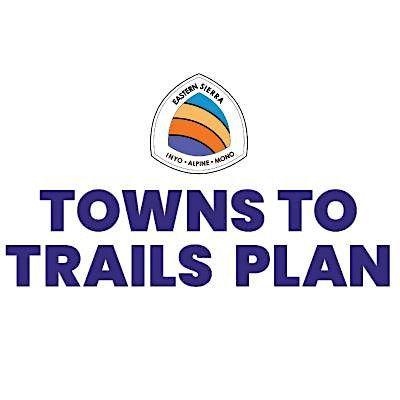 Public Meetings for the Eastern Sierra Towns to Trails Plan
The Eastern Sierra Towns to Trails Plan effort seeks stakeholder input.  "Towns to Trails" will
identify a multi-use trail network that will connect Eastern Sierra communities to each other
and to public lands throughout the region as well as to destinations south and north.
August 21-24, 2023, the planning team will be holding in-person stakeholder meetings by
county (Inyo, Mono, Alpine) to discuss trail opportunities, explore potential alignments, and
identify connections between communities and surrounding public lands. Opportunities and
challenges derived from these discussions will be utilized in subsequent trail planning efforts
and shared in a forthcoming series of stakeholder meetings. Please join us – all are welcome!
Towns To Trails – County Stakeholder Meeting Schedule, August 2023
 August 21, 2023, 5:30PM-7:30PM: Towns to Trails – Inyo County Stakeholder Meeting
Location: Cerro Coso Community College, Eastern Sierra – Bishop Campus, 4090 W
Line St, Bishop, CA
 August 23, 2023, 5:30PM-7:30PM: Towns to Trails – Mono County Stakeholder Meeting
Location: Mono County Civic Center, 1290 Tavern Road, Mammoth Lakes, CA
 August 24, 2023, 5:30PM-7:30PM: Towns to Trails – Alpine County Stakeholder Meeting
Location: Turtle Rock Park Community Center, 17300 State Route 89, Markleeville,
CA
Registration is recommended. Each session will be similar in format, exploring strengths,
weaknesses, opportunities, and threats related to trails within each specific county.
For more information including registration links, visit www.townstotrails.org or email
[email protected].
Background: What is "Towns to Trails"?
In 2021, the Towns to Trails project was identified as a regional sustainable recreation priority
by Eastern Sierra recreation stakeholders and land managers as part of the "Sustainable
Recreation & Tourism Initiative."  Since that time the Eastern Sierra Council of Governments applied for and received a Sierra Nevada Conservancy grant for this project.
The Eastern Sierra Towns to Trails Plan will identify a multi-use network that will connect
Eastern Sierra communities to each other and to public lands throughout the region as well as
to destinations south and north such as Lake Tahoe. The project parallels the Eastern Sierra
escarpment (west of Highway 395), from northern Alpine County, through Mono County, and
on into southern Inyo County, a distance of approximately 200 miles.
The Eastern Sierra region is characterized by dramatic landscapes, sweeping open spaces, and
superb outdoor recreation opportunities made possible through the unusually high percentage
of publicly owned and managed lands. The trail network may cross multiple jurisdictions and
lands managed by multiple entities, including the Humboldt-Toiyabe National Forest, Inyo
National Forest, Bureau of Land Management, and the Los Angeles Department of Water and
Power.
The Trails Plan will build upon existing trail and soft-surface infrastructure in the region and will take advantage of existing priorities for trail connectivity already developed by federal land
managers along with stakeholder ideas generated through the "Recreation Stakeholders" track
of the Sustainable Recreation and Tourism Initiative (SRTI). The planning process will feature
county by county collaborative planning efforts that will include tribes, relevant land managers,
stakeholders, and local agencies.
The Towns to Trails effort was initiated in December 2022 and expects to deliver the final trails
plan in December 2024.
Funding for this project has been provided by the Sierra Nevada Conservancy, an agency of the
State of California, under the California Drought, Water, Parks, Climate, Coastal Protection, and
Outdoor Access For All Act of 2018 (Proposition 68).