The following is a press release from the National Park Service:
Devils Postpile National Monument has reached another milestone in its general management planning where public input is requested. The planning process began in June 2009 with a series of public workshops where people shared their thoughts, concerns, and desires for the future of Devils Postpile. The planning team has now developed four preliminary alternatives and each alternative offers a different approach to managing the monument's resources as well as a variety of ways to meet the needs of visitors of all ages who continue to come to experience this special place.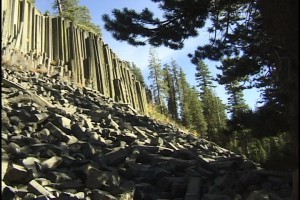 The purpose of the general management plan is to create a vision and overall management philosophy for Devils Postpile that will guide decision-making by current and future generations for the next 15 to 20 years. The four preliminary alternatives present different management strategies for resource protection and preservation, education and interpretation, visitor use and facilities, land protection and boundaries, and long-term operations and management of Devils Postpile National Monument.
The plan for Devils Postpile also presents opportunities for additional collaboration and coordination with the Inyo National Forest to develop desired conditions for the overall visitor experience and broad resource management issues related to the larger watershed. Devils Postpile National Monument is surrounded by the Inyo National Forest and both agencies work as partners to provide integrated management within the Reds Meadow valley. The Inyo National Forest is a cooperating agency in the planning process.
A newsletter has been released containing details about the alternatives, collaboration with the Inyo National Forest, and the planning process. Copies can be obtained at the Mammoth Lakes Welcome Center, the Devils Postpile Ranger Station, the White Mountain Ranger Station, and the Mono Basic Scenic Area Visitor Center, or by download at http://parkplanning.nps.gov/depo.
A public open house will be held at the Town of Mammoth Lakes Library on Thursday, September 15, 2011 from 3:00 p.m. to 6:00 p.m. Anyone is welcome to come learn about the alternatives and share their ideas to help the planning team refine these preliminary proposals.
To learn more about Devils Postpile National Monument visit http://www.nps.gov/depo and to submit comments visit the National Park Service Planning website http://parkplanning.nps.gov/depo.
Or contact: