News from a different commission in Mammoth, where image does count. The Public Arts Commission will go to work to create a new gateway entry monument to replace the current sign on Highway 203, described as "plain."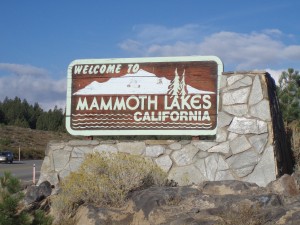 The Public Arts Commission will come up with a new design, and they want help. So, they have scheduled a public workshop for Thursday, October 11th in Suite Z at 4pm.
Ideas now in the air – one large, artistic structure with the name "Mammoth" on it, or a structure with no letters but artwork that says Mammoth, artistically.
A third brainstorm – a number of smaller artistic monuments that represent Mammoth – bears, fishing, skiing, you get the picture.
Chairman of the Public Arts Commission, Paul Jurewitz, is quoted as saying he thinks the monument should promote a "sense or arrival." A show stopper, in essence.
Have an eye for the dramatic? The workshop – October 11th, 4pm, Suite Z.