By Deb Murphy
The last weekend in April has historically been a merry time for Eastern Sierra anglers and local businesses. It's Fishmas, the official opening of the fishing season. But a pall hangs over this year's holiday as the California Department of Fish and Wildlife considers fishing regulation changes.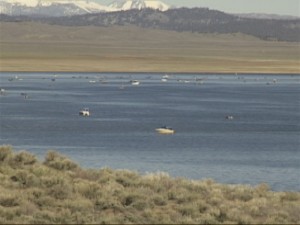 Fishmas may be moved to the Saturday before Memorial Day with the season ending on September 30. While Fish and Wildlife's reason for the change is simplification of a system that is a tangled mess of seasons and regulations, it's still complicated. Specific waters will be open year-round, but only for catch and release.
So, what about area businesses that rely on anglers?
Reagan Slee is as concerned about the health of the fisheries and his Bishop business Reagan's Sporting Goods. He estimates 75-percent of anglers coming to his store are looking at lures. His concern with those 25-percent fly fishermen is they "don't know how to get the hook out of the fish's mouth without causing damage. The mortality rate is high," he said.
"The fish need a break," he added, "to recover and grow without being bothered. It's going to destroy the fisheries. They can't be sustained."
In addition to the danger to fish, Slee is worried about anglers heading into the backcountry in what was once the "off season." He predicts a busy future for the area's volunteer Search and Rescue crew.
Fishmas traditionally greets eager anglers with less than perfect weather, but it still produces a welcome bump for businesses who rely on tourism. Bishop Chamber of Commerce's executive Tawni Thompson has numbers that testify to that bump. "The only solid statistic I have to offer," she wrote in an e-mail "is that the traditional Fishmas holiday definitely gives a boost to our hotel occupancy.
For the rest of April, our occupancy is around 60-percent. It jumps to 79-percent on Friday (Fishmas Eve) and 86-percent on Saturday of the opener weekend…. This equates to about 400 additional room nights for the weekend. The occupancy goes back down to about 60-percent for May up until the Memorial Day/Mule Days weekend."
For Abbie Grooms of Crowley Fish Camp and June Lake Marina, the proposed changes would erase a third of their season, impacting the business and its 20 employees. She anticipates the regulations will create more problems than Fish and Wildlife hoped to solve. She agreed there is a big pulse over the Fishmas weekend.
Fish and Wildlife "seem to think it'll sell more licenses," she said. "I think there will be fewer licenses sold."
Lake Crowley has what Grooms described as an early season advantage since it's generally ice-free where other mountain lakes are still iced up.
Rick Apted's Lake Sabrina Boat Landing is one of those generally iced-over, high-altitude lakes, so the financial impact of a late May opening for bait fishing, the majority of his customers, won't be huge. But, still his description of the proposed regulation changes: "they're dumb. There's nothing wrong with the way it is now. People who aren't familiar with this area are making the decisions."
Apted also expressed concern for anglers hiking up to Sabrina through the winter. "It's very dangerous," he said. "There's no communication. If you get in trouble you're pretty much screwed."
Like Apted, Chase Pasley of Bridgeport Reservoir Marina and Campground doesn't have a rush of anglers in late April. He hasn't really decided how he feels about the regulation changes but he is worried about the impact on his community. Will anglers come up in the winter and find tourist-dependent businesses open and providing the services they do through the summer fishing season? And, if anglers don't get those services will they understand why businesses opted to close or they'll spread the word of a closed-up Bridgeport on social media in an era where a slam on social media can kill you?
The comment period for the proposed regulations ends May 3 at 5 p.m. Here's the website to register comments:
https://www.wildlife.ca.gov/Fishing/Inland/Trout-Plan/Regulation-Simplification/comments