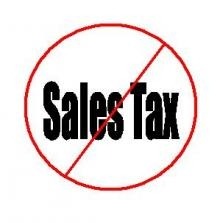 About a month ago, public controversy swirled around the State Sales Tax charged on propane and who is exempt.  Alice Susznski of June Lake brought it to public attention with a letter to the editor and so did Mono Supervisor candidate, Tim Fesko. More questions have come up from propane customers since then, so we checked back with managers and with the law on how customers avoid taxes under legal exemptions.
The Bottom line?  If your propane is delivered to a 30 gallon or more tank at your primary residence, you qualify for an exemption from sales tax.  Check it out here: http://www.boe.ca.gov/sutax/faq426.htm.  You should ask your propane provider for an exemption form if you qualify.  Sign it and return it.
Ms. Susznski said she was charged State Sales Tax on her primary residence which was eligible for tax exemption.  She said she fought for and won a refund but posed that it shouldn't be a fight for citizens to have a legal entitlement.  The law says that metered propane customers do not pay a sales tax.  Sales tax exemptions are available for customers who do have propane delivered to a 30 gallon or more tank at the primary residence "which is not served by gas mains and pipes."
Susznski's propane provider, Turner Propane, indicated to Sierra Wave that they do have a practice in place to accommodate customers.  Turner Manager Jim Miller said Turner "goes one extra step" beyond legal requirements. He said Turner looks at customer mailing addresses and if they are local, they ask if it is a primary residence.  If it is, they give the customer a tax exemption form.  The law does not require propane providers to give all customers an exemption form.  The law does require customers to figure out their own exemptions and obtain the necessary form.
Ms. Susznski believes the exemption forms should be provided as a matter of course, even though the law does not require it.  Another local propane provider, Eastern Sierra Propane, agrees.  Owner Tom Sigler posted a comment on sierrawave.net.  He said his company includes a Sales Tax Exemption Form in all new customer packets.  He said, "We have also informed existing customers of the tax law change."
We have placed a call to AmeriGas and await more information from that company. Reminder – the tax in question is the California Sales Tax only – not Town of Mammoth or County taxes.