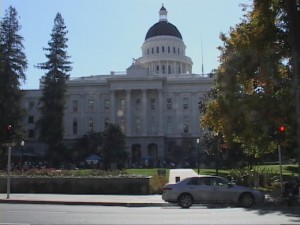 In spite of chronic and serious state budget problems and deep cuts in the Judicial Branch budget, the California Judicial Council has approved 23 new court facility projects to move ahead, including a new court building in Inyo County.
A press release from Inyo Superior Court says that the Judicial Council voted to accept recommendations from its Court Facilities Working Group which gave Inyo County the go-ahead to proceed with site acquisition for a new courthouse. The site will be in Bishop. The Judicial Council did require that the project budget be reduced by 10%. The State had earlier described Inyo's project as one with two courtrooms, 28,774 square feet at a cost of $32,286,000.
Superior Court Judge Brian Lamb and Tammy Grimm, CEO of Inyo Superior Court, attended last Friday's Judicial Council meeting. They said they had attended 30 hours of public hearings before the Facilities Working Group in September. Grimm is quoted as saying that she and Judge Lamb explained factors which spell out the need for a new court building.
The Inyo press release lists some of the factors – security, overcrowding, lack of ADA accessible courtrooms, physical condition of the buildings, accessibility of facilities by the public along with other items.
The press release says the vote last Friday moves Inyo County and 22 other statewide projects back into a "proceed" status. Seven projects were indefinitely halted due to deep cuts to the Judicial Branch budget.
Ms. Grimm said that the Administrative Office of the Courts will proceed to identify and purchase a site for the courthouse. Earlier searches for a Bishop site had been unsuccessful.
After the site acquisition comes the design phase. At that time, Inyo's administrators and judges will appear before a subcommittee to address reductions in the courthouse construction budget.