By Deb Murphy
The Black Rock 94 dispute resolution has taken a few steps forward, but also a step or two back.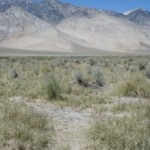 Originally scheduled for a control burn of approximately 212 acres this winter, the Los Angeles Department of Water and Power had to stop short because of high wind predictions. Those predictions proved all too real for residents in Swall Meadows on Feb. 6.
"We may not be able to complete the burn," LADWP's Dave Martin told the Standing Committee at its Feb. 9 meeting, "but it depends on the fire agencies' (permitting)." With three additional burns scheduled before March 15, Martin was not optimistic that permits would be issued.
According to Martin, the department got a third- or a half-way through the acreage scheduled.
Mid-March is the cut-off date for seasonal burns because the area provides nesting for migratory birds.
Despite the postponement of this year's burn, Aqueduct Manager Jim Yannotta told the committee that the total of 665 acre burn would be completed in the five years outlined in the Black Rock 94 resolution.
But, progress has been made on developing a vegetation monitoring plan for both Black Rock and inclusion in the Green Book, basically the owner's manual for the Long Term Water Agreement. The contract with the third party, Ecological Society of America, was completed the first week in February and workshops have been scheduled with all parties and facilitator Susan Carpenter next month.
"The goal is to have joint monitoring this summer," Carpenter told the committee. "It may not be the final product but we can refine it this summer."
Carpenter described one process with both the Inyo County Water Department and LADWP contributing to the data. "It will be based on the best practices," Carpenter said, "the best science and new technologies. Both will be on the same page."
The county's procedures for determining vegetation damage caused by LADWP groundwater pumping at Black Rock 94 was a sticking point in the dispute resolution that dragged on for seven years. Following resolution procedures outlined in the LTWA, the county and the city of Los Angeles couldn't arrive at a resolution and the matter went to arbitration. LADWP argued that the vegetation monitoring procedures cast doubt on the extent of damage and did not prove the cause was groundwater pumping.
The two parties reached a resolution last spring with LADWP reducing pumping from 12,000 to 8,000 acre-feet a year and bringing in a third party to establish a monitoring protocol that both parties would agree to.