After two continuances, the Mammoth Lakes Town Council finally had enough time at the July 1 meeting to fully discuss the North Village District Study. Mammoth Crossing applicants have been biting their nails each week as the item got continued because the Council's decision on the study ultimately reflects how the Planning Commission can move forward with the Mammoth Crossing project discussions.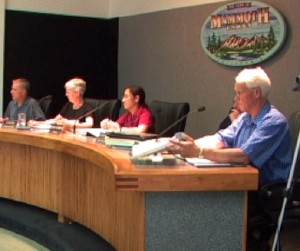 The Planning Commission has to wait for the Council to accept a District Study before they can plan a specific project in the district because the study is meant to inform what the Commission allows the project to do or not to do. The problem continues to be that many studies are being developed in a parallel process to the development of a project, therefore slowing down the project. Council has deemed completion of district planning a top priority because of this overlap.
Council reviewed the North Village District Study and discussed their pipe dreams for the area. Councilman Skip Harvey hoped to see an elegantly designed, walled off area to the Village at the corner of Minaret and Main that would force people to park and get out of their cars in order to enter. Mayor Pro Tem John Eastman did not think that rock walls would at all be appealing at such a focal point in the town.
Discussions were simply ideas and nothing more at this point. Council asked several questions about height, density and more before deciding to approve the study.
Council's comments will now go back to the Planning Commission for them to refer to while they are making actual decisions on the design of the Mammoth Crossing project.