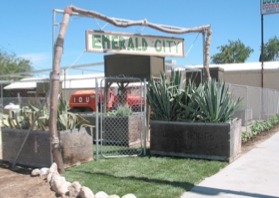 Public Service Announcement
Produce Swap, Cold Frame Training
The Lone Pine Produce Swap  will take place on Saturday, September 15, 2012, from 9 am to 12 pm in Metabolic Studio's IOU Garden on Main at Willow.
The garden will also host a Build Your Own Cold Frame Workshop  at 10 am to help gardeners extend their growing season, along with a Children's Radish Planting Workshop at the same time.  Fall vegetable seeds will be available free of charge.
The Produce Swap features fresh, locally grown produce from area community gardens.  Produce is available to all whether or not you have something to swap, and donations  are gratefully accepted to benefit community growing projects.
For more information, contact Ben Holgate at 760-878-8348.