The bear in Mammoth Lakes known as Blondie continues to walk into homes to find food, and town officials continue with concerns about public safety.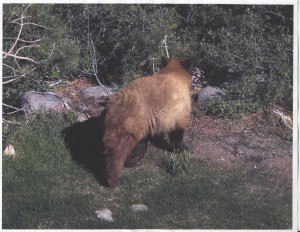 Police Chief Randy Schienle said that he and Steve Searles have been meeting with others over this bear issue. The repeated home invasions by the bear raise the alternative to destroy her.
Chief Schienle said that the Department of Fish and Game says they can not issue a depredation permit to shoot the bear to a public agency like Mammoth Lakes. Only private citizens can obtain those permits to destroy a problem bear.
Schienle said Searles and others are monitoring the bear's behavior. The Chief said that if officers see an imminent threat, DFG says they can destroy the bear. But only if they witness the event.
Steve Searles estimates that the blond bear has walked into as many as 25 homes for food. So far, no violent incident has occurred.