– Mammoth Lakes Police Department press release
On Sunday, November 30 at approximately 10:20 a.m., Mammoth Lakes Police Officers and Steve Searles, Mammoth Lakes Wildlife Specialist, responded to a report of a bear being shot in Sierra Valley sites.  Upon arrival they were met by a local resident who reported he had shot a bear.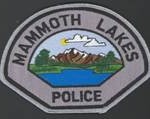 The resident reported the same bear had broken into his garage numerous times in the past few weeks.  Steve Searles responded to several of the previous incidents and confirmed that this resident was dealing with a problem bear.
On November 30, the bear again broke into the resident's garage and began tearing apart his refrigerator.  The resident yelled at the bear and it went outside.  He followed the bear in an attempt to get the bear to leave the area.  The bear bluff charged the resident who ran to the front of the house.  The bear began following the resident to his front door.
The resident reported being in fear of his life and retrieved a shotgun from inside his residence.  The bear charged him again, turned away, and turned towards the resident again and approached.  The resident fired one round into the bear's buttocks.  The bear then left the area.
An officer located the bear a short distance away and observed that it was seriously injured.  The officer then put down the bear with one shot.
California Department of Fish and Wildlife Warden Estrada responded and conducted an investigation.  After speaking with the resident, Warden Estrada concluded that the depredation of the bear was justified and he issued a post-mortem depredation permit.  After DNA evidence was extracted from the bear, it was removed and disposed in an undisclosed location in the forest.
Residents and visitors are reminded to secure all vehicles, garages, and residences.  Food should never be left accessible or in sight.  Bears are very intelligent and have the ability to smell food in a locked vehicle or garage.  Cars and residences are broken into several times each year.  Some bears are still out and eating as much as they can before hibernating.  Please don't encourage bad bear behavior.
The public is also reminded that Steve Searles and MLPD officers are equipped with non-lethal weapons that can be used to discourage bad bear behavior.  Anyone experiencing problems with a bear should call 911 and report what is occurring.  That will allow the most experienced and best equipped people to respond and take the best course of action for both public safety and proper bear management.