Primavera Fejfar,
1930 – 2019
Primavera Fejfar, born on March 23,1930 in Salerno, Italy to Vincenzo and Grazia Rolleri, passed away peacefully in her sleep on January 3, 2019.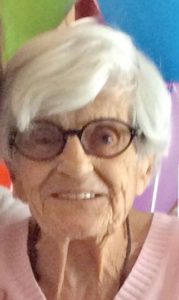 Primavera immigrated by ship from Italy to Canada in 1950 with her daughter, Anna Carey, to join her husband, Peter Karl Fejfar.  Primavera learned to speak English by reading catalogs and other various reading materials that were on hand.  She was a hardworking woman who sacrificed everything for her family.  Then in 1966 the family immigrated to the United States.  One of her proudest moments was when she became a United States citizen.  Her family and home were her pride and joy.  She was one of the bravest, courageous and giving persons known.
She is survived by her brother, Vincenzo Rolleri (Carmelina); daughters, Anna Carey and Grace Douthitt (James); grandchildren, Robert Lloyd Semler, Francesca Llaudes (Maximo), Ben E. Carey, Jr. (Jenny), and James Allen Carey (Jessica); great grandchildren, Ben E. Carey, III, Krislynn Carey, Christian Carey, Andrew Carey Isabella Llaudes, Marisol Llaudes and Grace Llaudes and many nephews and nieces.
She is preceded in death by her beloved son, Peter Karl Fejfar, III; her parents; her brothers, Gerardo and Giannino and sisters, Rita and Maria.
A memorial service will be held on Thursday, January 10, 2019, at 11:00 AM at Brune Mortuary, located at 325 Elm St., Bishop, California, followed by burial at Line St. cemetery.