Just like that, we plunge headlong into summer with the start of the Mammoth Mountain Bike Park and Adventure Center season.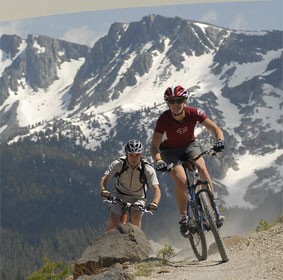 The Bike Park crew expected to have 10 trails open on the lower mountain, serviced by shuttle bus, with options for every ability level. The Adventure Center offers Scenic Gondola Rides. Kids ride free and Lookout Lunch specials deliver great deals for adults.
If you didnt already know, Mammoth Mountain Bike Park descends over 3,000 vertical feet and offers seven new Freeride trails built in the last two seasons and a variety of Single-track and Downhill options for every level of rider. This season the Bike Park will offer guided tours, private lessons and two camps.
The Adventure Center offers Scenic Gondola Rides where kids ride free. Reached by a Scenic Gondola Ride, the Top of the Sierra Interpretative Center and Caf lets visitors explore the geologic history of the Eastern Sierra and grab a bite to eat while enjoying 180-degree views of peaks, valleys, rivers and glacial rock formations.