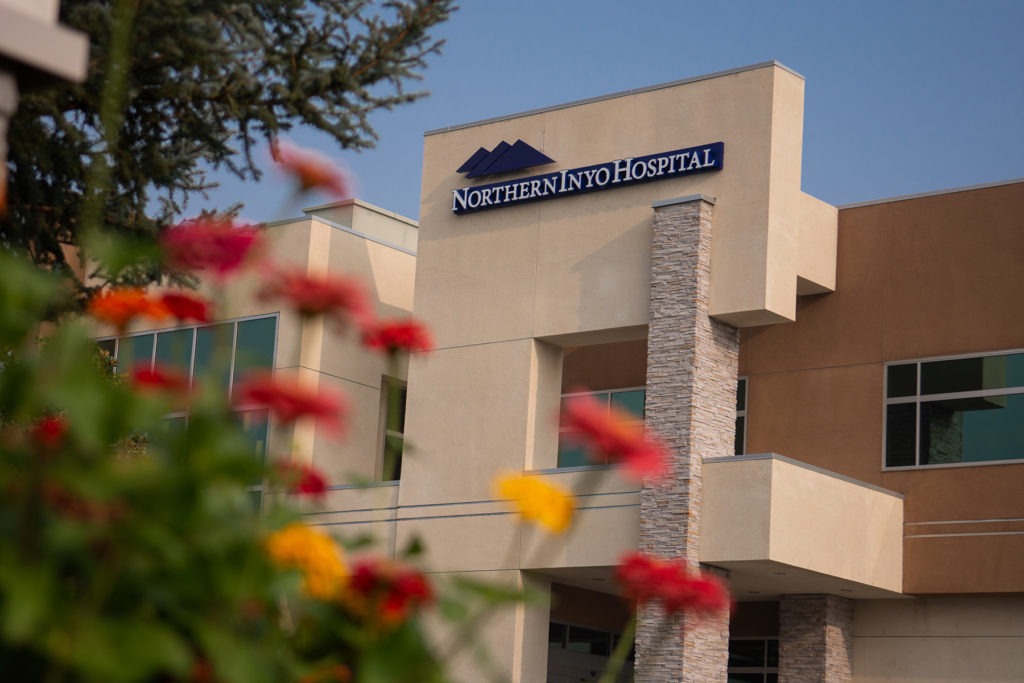 NIHD prepares to make workforce reductions
As the financial situation at Northern Inyo Healthcare District reaches dire levels, a planned effort to "right-size" the operation is underway. Regrettably, NIHD anticipates eliminating about 15 positions, or less than 4 percent of its 460-member workforce, no later than April 21.
These nonclinical reductions include roles within support and administration. Severance, and in a few cases, job relocation at a lower pay rate within the District, will be offered to those impacted by these changes.
"Our focus steadfastly remains on delivering quality care for the community," Interim Chief
Executive Officer Lionel "Chad" Chadwick says. "To that extent, no positions in direct patient care are being reduced. However, it should be noted the District has made great efforts to reduce the number of contracted traveling nurses within our operations, providing substantial cost savings."
Like many healthcare facilities nationwide, NIHD has experienced financial strain from the lasting impacts of the COVID-19 pandemic, high inflation, and labor shortages. The most significant effect continues to be low reimbursement rates for Medi-Cal and Medicare, together a large percentage of NIHD's revenue. While workforce reductions like this are regretful, uncomfortable, and distasteful, Chadwick says NIHD must continue examining all opportunities to maintain a sustainable healthcare facility.
Chadwick notes that while 15 positions may seem small to the public, since December, the
District froze several positions as those became vacant due to retirements, resignations, or
interdepartmental relocations. Savings from the frozen positions is $1.5 million. Chadwick
anticipates the District will save an additional $1.5 million with the 15-member reduction in force.
Still, Chadwick notes, more is needed. "Our Turnaround Group has taken a deep dive into our
operations, hoping to find ways to balance our finances and improve our efficiencies," Chadwick says. "We've acted on many opportunities, large and small, in hopes of not having to undergo this workforce reduction. Unfortunately, the community needs to understand we are facing more difficult decisions, which may affect service lines, days of operation, hours of operations, and more. Everything is on the table. As I've told the team, there are no sacred cows."
That includes Interim CEO Chadwick himself. At last Wednesday's special NIHD Board of Directors meeting, he proposed elevating Chief Financial Officer Stephen DelRossi to Interim CEO for at least six months while DelRossi maintained his permanent role as CFO. The Board immediately entered negotiations with DelRossi.
If an agreement is reached, the move would either eliminate Chadwick's role or reduce his role to an on-call consultant, saving the District an executive salary. The outcome of DelRossi's
negotiations will most likely be announced at the Board's next meeting, Wednesday, April 19.
Chief Nursing Officer Allison Partridge also holds a dual leadership role serving as Interim Chief Operations Officer. The District rounds out its Executive Team with Hospitalist Dr. Stefan Schunk serving as Interim Chief Medical Officer following the recent departure of Dr. Joy Engblade to be closer to family.
In total, NIHD employs 460 people across its services which include a 25-bed critical access
hospital, a 24-hour emergency department, a primary care rural health clinic, a diagnostic
imaging center, a rehabilitation services center, and clinics specializing in women's health,
orthopedics, internal medicine, pediatrics, allergies, general surgery, colorectal surgery, breast
cancer surgery, and urology.
The District was one of the first healthcare districts formed in the state in 1946. Voted into
existence by its communities in January 1946, NIHD is one of 54 healthcare districts serving the state's rural areas. According to the Association of California Healthcare Districts, facilities like NIHD provide access to essential health services and are directly accountable at the community level. As a result, tens of millions of Californians can access care that would otherwise be out of reach.