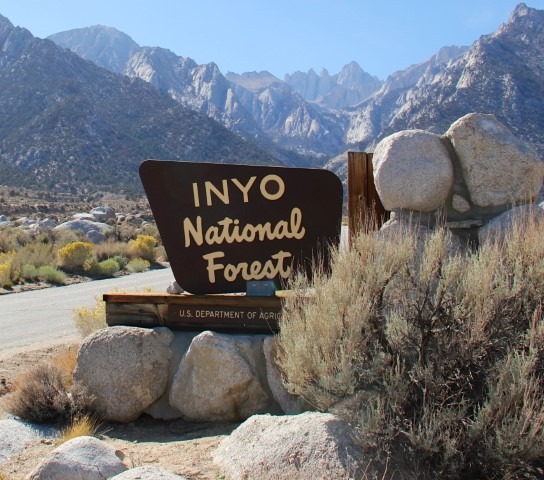 BISHOP, Calif., February 10, 2023 — To keep user conflicts low, safety high and the snow fresh, Inyo National Forest staff would like to remind visitors to practice proper etiquette and follow regulations whether you're skiing, snowshoeing, or snowmobiling through the forest.
There have been some changes to the winter recreation program, specifically regarding trail grooming, along with a revised map on our revamped Winter Sports webpage: www.fs.usda.gov/activity/inyo/recreation/wintersports. Here you can find the latest updates on which trails have been groomed, along with other winter sport recreation information.
Forest trail grooming is conducted by a single Snowcat operator covering approximately 90 miles of trails on the forest, with assistance from the Town of Mammoth Lakes trail groomers closest to the town. Check the Mammoth Lakes area trails here: www.mammothtrails.org/trail-conditions
Groomed trails designated for snowmobiling are marked with orange diamonds, however there are about 150,000 acres open to over snow vehicles (OSV) off the maintained trail system.
Designated Wilderness and Research Natural Areas are always off-limits to anything motorized. This includes John Muir, Ansel Adams, Owens River Headwaters, Indiana Summit RNA, and Hoover Wilderness Areas. Riding in Wilderness is a Federal offense carrying fines up to $5,000 and/or six months in jail, in addition to possible seizure of the snowmobiles.
Snowmobiles must display a current state registration sticker.
In Mammoth Lakes, within the Shady Rest "slow zone" just past the softball fields, green geothermal pipelines have been temporarily marked with thin bamboo poles colored yellow, black, and red about 25 feet apart. Please remain on the groomed trail when approaching or leaving this area. Do not ride your snowmobile over these pipelines.
For other general questions feel free to contact one of our visitor centers:
Mammoth Lakes Welcome Center (760) 924-5500
Eastern Sierra Visitor Center (760) 876-6200