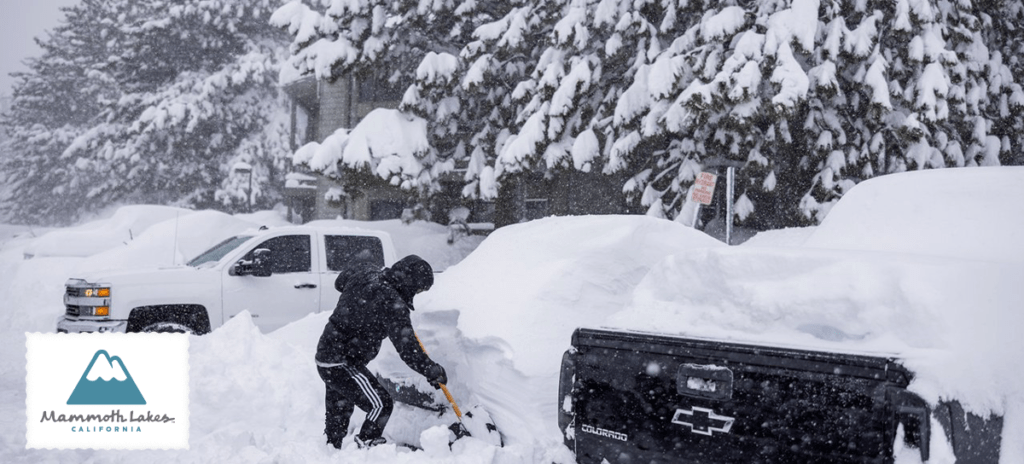 BE PATIENT. BE CONSIDERATE. BE KIND.
WE NEED YOUR HELP!
Mother Nature has bestowed 6-7.5 feet of snow upon us in the past week. We are excited to welcome everyone to town for the holiday weekend, but please note that this will be a different type of vacation and we need you to pay attention. Most places would view what we just experienced in Mammoth Lakes as a natural disaster. While we are celebrating it, there are things you MUST keep in mind with this amount of snowfall in town, especially since another storm is on its way this weekend.
Be Patient (and Thank a Local)
Please remember that locals have been shoveling non-stop for the past week just to get to work to help our town operate. They are tired, but they are here for you! Please thank them if you have a chance.
With this amount of snow, town is going to feel tight this weekend. Snowbanks are HUGE and often tough to see around whether you are driving or walking, and parking lots are tight. Please use extreme caution and be patient when looking for parking spots and when driving to and from the mountain. Being patient helps everyone stay safe.
*DO NOT pass snow removal equipment on the roads
*DO follow @mammothmountain for live and hourly mountain updates
*DO remember that traffic rules still exist even if it is snowing
*DO clear all the snow off the roof of your vehicle
*DO take public transit whenever possible
Be Considerate (and Thank a Local)
Remember that everyone who is going to be in town this weekend is going to be struggling through this snow and the town is doing its best to create space for everyone to get around as best they can. Help others if you have a chance and be considerate in town and on the mountain. Remember that we operate on mountain time up here (i.e., a slower pace of life), so don't worry about taking things slow. Better to arrive in one piece at your destination.
No one knows how to navigate after a storm like our locals do, and they are here to help you, but please remember what they have been through in the past week. Shoveling 6-7 feet of new snow takes its toll. Please thank them if you have the chance.
*DO put chains on your vehicle as soon as you enter a chain required area
*DO give yourself 3x the stopping room at lights, stops signs and when following other vehicles
*DO wear bright, reflective clothes if you are walking around town. It is difficult to see people walking in a snowstorm.
*DON'T create your own parking spot
Be Kind (and Thank a Local)
We know you've heard it before, but kindness goes a long way when it comes to situations like the one we are in. There is a ton of snow, more on the way and nowhere to put it. Let's all try to remember our human compassion and be kind to one another this weekend.
Extend your kindness to our hardworking locals and give them a shout of thanks when you see them.
*DO pack extra blankets, food and water in your vehicle in case you end up stranded in it for an extended period of time.
*DO NOT abandon your cars, even just briefly overnight, it creates plowing issues and likely damage to your vehicle
We are all in this together so please help us to help you!