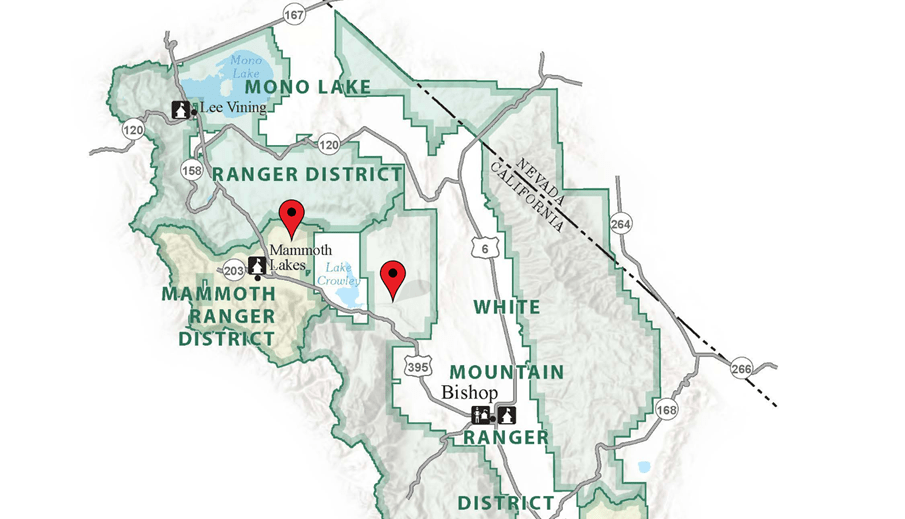 Prescribed burning to start June 6 on Inyo National Forest

BISHOP, Calif., June 1, 2023 —Starting Tuesday June 6, Inyo National Forest firefighters with assisting agencies will be burning several hundred acres of accumulated needle cast and ground-level vegetation in the coming weeks at three different locations on the forest. Smoke will be visible and air quality may be impacted depending on weather conditions.
 The first two locations will be broadcast burns, the type of burn that is ignited across the landscape within defined boundaries. "These prescribed fire areas are burned on a recurring rotation to best mimic the natural fire return interval and restore natural fire intensities," said Jennifer Martin, Fire Management Specialist (Fuels Planner) for Inyo National Forest and also the Burn Boss for this project. "Reducing fuel loading will decrease future wildland fire intensity and severity, lowering the risk of negative impacts to ecosystems, cultural resources, and communities that can result from uncharacteristically severe wildfires."
 The projects are as follows:
 "Casa Diablo" located east of Crowley Lake:
Starting June 6 and continuing for approximately two weeks or more
100 to 500 acres per day will be burned as conditions allow
Under the most optimal conditions, target acreage is approximately 3,000 acres for this year.
"Antelope" located east of Smokey Bear Flat and south of Owens River Road:
Starting mid to late June
600 acres, over several days
Later in June and July, firefighters will also be pile burning in both the Lakes Basin and Reds Meadow areas. Another news release will be sent out at a later time with more details.
As different phases of the prescribed burns are met, information will be released via:
Smoke is expected to be visible from Highways 395, 6, 120, as well as from the communities of Crowley Lake, Sunny Slopes, Tom's Place, Swall Meadows, potentially the Town of Mammoth Lakes and beyond, depending on winds and how the smoke settles at night.
All prescribed fire activities will be coordinated with the Great Basin Unified Air Pollution Control District in order to provide the best smoke dispersion and to reduce impacts to Eastern Sierra communities.
To check air quality, visit airnow.gov.