Natalie Nield of Carlsbad would have turned 18 on August 12th, but the teenager took the wheel of an SUV as she and three others headed south from Mammoth Lakes. Nield and two others died in a fiery crash south of Bishop on Augusts 9th.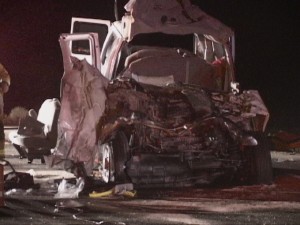 The California Highway Patrol has released more information on what happened in that horrible accident. Three people lost their lives and more than a dozen others were injured. A CHP collision report points to the 17-year-old driver of the southbound SUV.
The CHP report says that Natalie Nield, 17, of Carlsbad, made "an unsafe turning movement" for an unknown reason a few miles south of Bishop. Nield and three other students, along with a trainer, had spent time in Mammoth for high altitude athletic training. The CHP said the 17-year-old Nield had run off the west side of the highway, hit a drainage ditch that borders the highway shoulder and then spun out of control.
That vehicle rolled over several times into the northbound traffic lanes and struck a van head-on. CHP Officer Dennis Cleland said that the full report on the exact causes of the accident has not yet been released since the Major Accident Investigation Team, or MAIT, continues their work. Officer Cleland did give us preliminary information about the cause of the wreck.
Officer Cleland added that when Ms. Nield veered off the highway, the rear tires of the SUV hit a drainage ditch which, he said, caused the accident, caused the vehicle to spin out of control. Officer Cleland said witnesses on scene the night of the accident reported that the SUV burst into flames before it hit the oncoming van.
The other teenager who died in that SUV was Amanda Post, 18. 22-year-old Drew Dellis and 19-year-old Derek Thomas remained hospitalized, as did athletic trainer John Adams.
Wendy Rice, 35 of Corona was the driver of the van carrying Cal Baptist University students to Mammoth. Rice was killed.
More information about why the teenaged Nield veered off the highway may be known when the Major Accident Investigation Team final report is out. Meanwhile, an impromptu memorial stands on the side of Highway 395 south of Bishop, the scene of that terrible crash.