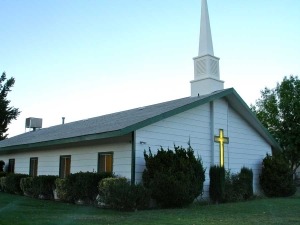 The President of the Bishop Ministerial Association, Pastor Kelly Larson, said of new invocation rules by the Bishop City Council, "It's sad that we're letting the fear of litigation manipulate us. Our secular culture has dominated our spiritual ideals."
The Ministerial Association pastors are divided on their views of the new invocation rules adopted by the Bishop City Council last month. That division was revealed in a Tuesday meeting of the Association. The new rules basically say that an invocation or prayer can take place at the start of the meetings but there can be no mention of a particular deity, no mention of religious holidays, no quotes from doctrine and generally nothing that can be viewed as "favoring one religion over another," say the guidelines.
Pastor Larson of Bishop Creek Community Church, said that as a culture "We have shown God the door and asked him to leave society." He said America is a nation founded on "biblical principles". Larson said the "abandonment of God goes hand in hand with the condition of our nation." He said some pastors in Bishop are very strong about using the name of the deity and others are willing to adjust to the City's new rules.
Larson said he sees the Bishop Ministerial Association as continuing to be represented at the City Council meetings although the adaptation, he said, will be difficult. "We'll keep on praying," said Larson.
Pastor Kent Puls of the Grace Lutheran Church in Bishop strongly believes those who give the invocation should be able to freely express what they believe. He said the meeting of the Ministerial Association Tuesday revealed about a half and half split over the new guidelines. Pastor Puls said he can not say a prayer without using the names of Jesus and God. He said any faith should be free to say their own prayer. Of the new rules, Puls said, "They restrict the fullness of complete religious expression."
Pastor Puls has participated in City Council invocations for 16 years but believes he personally will not continue. He did call the split in the ministers' views an opportunity to grow. "This will make us think about how we believe," he said.
Pastor Rick Klug (Kloog) of Calvary Baptist Church schedules ministers for invocations at City Hall. He said there are no hard feelings, but he is disappointed that "someone from out of town stirred it up." He said he's fine with messages from "Mormons, Muslims or Hindus." But, Pastor Klug said he wishes it weren't necessary to be so "defensive against lawsuits."
Klug confirmed what others have indicated – Rajan Zed, the Hindu man who will give an invocation August 13, "felt like a test case." Zed had emailed to ask for the next invocation date in Bishop. Officials then talked about guidelines. Klug said if he has to censor his own prayer, he can.
First United Methodist Minister Kathleen Puntar said some cities have discontinued invocations completely. She said she is glad Bishop will continue. Puntar said that in public settings she tends not to be so specific. "I realize I'm not in my own church," she said.