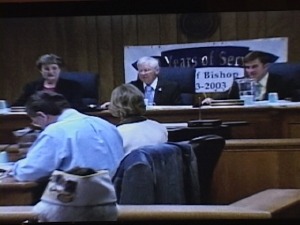 The Bishop City Council meets tonight at City Hall with the first Hindu invocation in the City's history. Rajan Zed of Reno, Nevada, contacted the City and asked to give an opening prayer. That request spurred the City to adopt an invocation guideline policy. That policy has sparked debate among local pastors who are divided on their views of the ban on mentioning specific deities.
Once past the prayer, the Council will consider approval of responses to the recent Grand Jury Report which suggested some improvements for the Bishop Police facility, including a future, larger space.
The Council will consider a resolution to change control of the cable television franchise from Cequel and Suddenlink Communications to Nespresso Acquisition Corporation. According to an FCC notice, Cequel sought a transfer of control to Nespresso, which includes Canadian and British Corporations. Nespresso was created, according to the notice, for the purpose of acquiring the equity of Cequel. It appears the FCC approved the transfer. This new firm will own the cable television and internet systems in both Inyo and Mono counties.
The Bishop City Council may also add two new positions – Assistant Finance Director and Recreation Supervisor. They will consider that tonight. The meeting starts at 7pm at City Hall.
And as of the Friday deadline, these people will run for Bishop City Council in November – incumbents Dave Stottlemyre, Susan Cullen and Laura Smith and challengers Keith Glidewell and Patricia Gardner.