The following press release was submitted by the Bishop Paiute Tribe:
It's BISHOP POW WOW time!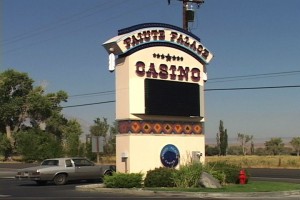 Our Bishop Tribe Pow Wow committee is finalizing the preparations for our annual Pow Wow to be held this weekend, September 23-25 in
conjunction with a community celebration of California Indian Day.
The committee would like to acknowledge the community of Bishop for their continued support and attendance at this
annual event. All visitors are welcome! Don't forget your lawn chair and shade and enjoy a weekend filled with intertribal
dance contesting, drumming, singing and of course, viewing our vendor area filled with Native crafts & delicious
food!
As in year's past, the Pow Wow's largest financial sponsors are the Bishop Paiute Tribe, Owens Valley Career
Development Center TANF Program and the Paiute Palace Casino. Each of these entities continued financial
contributions along with the helpful assistance of their employees continually assure the success of our Pow Wow!
In addition, we have several local sponsors who have also financially contributed to the PowWwow: the Big Pine Tribe,
Bishop Waste, Utu Utu Gwaitu Tribe, Brune and Buck Mortuary, Mojave Heating & Cooling, and Ralph Le Pera,
Attorney. Also, DWP has donated much needed generator/lights and McDonald's and BBQ Bills have also
contributed to the princess contests.
Beginning Thursday at 12 noon, the Pow Wow grounds (located next to the RV Lot at the Paiute Palace Casino) will be
open to the public. Please feel welcome to set up a shade canopy. However, we ask to please respect the designated
isles, walkways and parking for safety.
On Friday, September 23, the princess contest will be held at 2:00 PM at the Community Center located on 405 N.
Barlow Lane. There are five young ladies vying for the honor of becoming Pow Wow royalty. The committee would
like to extend best wishes and good luck to the Miss Pabanamanina Princess contestants: Leticia Gonzalez & Bailee
Piper and to the Little Miss Pabanamanina Princess contestants: Lacey Racine, Camile Talavera, Hateya Rose Barr,
Kassidie Duckey, The public is welcome to attend.
Our head staff for the weekend are well-known and highly requested in the pow wow circle. Our MC is Ruben Little
Head; Ben Wolf, Arena Director; Gabe Hardin, Head Man; Genevieve Lemaster, Head Woman; and our head drums
are Southern Medicine and The Boyz!
That same evening dancer registration will open at 5:30 PM and the 1st grand entry of the pow wow will begin at 7:00
PM. Participants and visitors are encouraged to arrive early! Besides enjoying all the aspects and competition of the
pow wow, visitors should take special interest in the Saturday afternoon Tiny Tot Princess Contest and the $1,500
Winner-Take-All competition for Adult Women Fancy Shawl Dancers and Adult Men Fancy Bustle Dancers to be
held during the Saturday evening session. This special event is guaranteed to be a crowd pleaser! Also, the Paiute
Women's Special and Hand Drum singing contest on Sunday afternoon will be enjoyable.
The following is a review of the Pow Wow weekend, please keep in mind that special event times are approximate!
Friday, September 23
• 5:30 PM, Dancer Registration begins
• 7:00 PM, Grand Entry & Welcome
• Honoring for new 2011-12 Princess Royalty
• Dance Exhibitions – Tiny Tots (sponsored by Inyo Child Care Services) & Teen Dancers (all categories)
• Dance Competition – Jr. Dancers (ages 7-12, all categories)
• Dance Competition – Golden Age Men & Women (co-sponsored by the Manuelito Family)
Saturday, September 24
• 11:00 AM, Dancer Registration begins
• 12 noon, Grand Entry
• 12:30 PM, Veterans & all Military Honoring (all Veterans & military are invited to participate)
• 2:00 PM, Tiny Tot Princess Contest & Honoring (open to all dancers ages 0-6)
• Dance Competition – Jr. Dancers (ages 7-12, all categories)
• Dance Competition – Teen Dancers (ages 12 – 17, all categories)
• Dance Exhibitions – Tiny Tots, All Adult and Elder categories
5:00 PM, Dinner Break
• Community BBQ for all dancers & visitors! (Sponsored by the Paiute Palace Casino)
• Aurora Toledo Special – Jingle Dance Contest, All ages/categories
7:00 PM, Evening Grand Entry
• WINNER TAKE ALL special contests: Women's Fancy Shawl & Men's Fancy Bustle
• Dance Competition – All teen and adult categories
• Dance Exhibitions for Tiny Tots & Jr.'s (as time allows)
Sunday, September 25
• 12 noon, Grand Entry
• Dance Competition – All Adult categories
• Bailee Piper Special – Teen Team Dance
• Paiute Women's Special
• Hand Drum contest
• Raffle winners announced
• Presentation of winners