Four Lone Pine residents set to serve county jail time for embezzlement related charges, appear to have taken more money than was previously reported – an amount that may now exceed a quarter of a million dollars.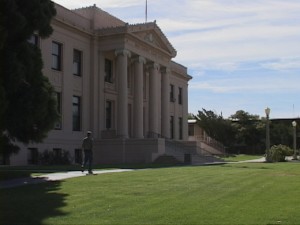 When the story first broke in April of 2009, former Indian Education Center Director Gary Donnelly, bookkeeper Mary Donnelly, bookkeeper/office manager Mary Jefferson, and the assistant to the Director Sara Jefferson, were said to have racked up over $100,000 in charges for personal use on Indian Education Center credit cards. Since the investigation began, Inyo District Attorney Art Maillet explained that the amount snowballed.
The probation department has set restitution for money stolen from the Indian Education Center at $250,000 and there is another reserved claim on a federal fund for needy children of $590,957.22. The amount owed is still a matter of dispute, according to the DAs office, but the four may have taken even more than this large amount. Maillet says that the four may also have used the Education Center gas credit cards inappropriately as well.
Gary Donnelly was sentenced to 365 days in jail. Mary Donnelly was sentenced to 120 days, as was Mary Jefferson. Sarah Jefferson received 90 days in the county jail. A hearing to determine how much these four will pay in restitution is set for May 21.