In 2007, the Los Angeles Times went to Keeler and published a front page story about the Keeler Post Office, in business since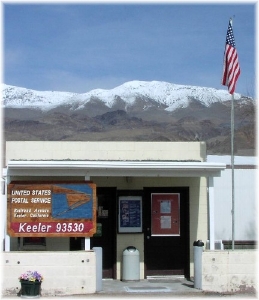 1883 and doing big business selling stamps. Now, the Postal Service may close the post office at Keeler.
Residents of the small town on the edge of the Owens Dry Lake are upset about the news. Where will residents get their mail? Will it really save money to close down a post office that has been in business for 128 years? Residents doubt it and point to the fact that several small businesses get their mail in Keeler along with many senior citizens.
James Wigdel, Postal Service spokesman said that there will be a public meeting Wednesday, May 18th at 9:30am at the Keeler Post Office to discuss the possible discontinuance of the post office there. Wigdel said the decision has not been made but that a process has begun toward closure. They need public input. He said the Postal Service will look at a few thousand post offices for possible closure nationwide.
The budget is the reason. Wigdel said the Postal Service lost $8.5 billion last year and in the first quarter of this year, $2.2 billion. Wigdel said, "Mail is going away. We suffered a 20% volume drop over the last four or five years. The Postal Service gets no taxpayers' money. We operate like a business." The postal man said that the proposal is to put all of the 62 Keeler post office boxes into what is called a cluster box – one location for everyone to pick up and drop off mail. He admitted the savings would not be huge but would save the cost of an employee on site, maintenance and utilites.
The Keeler Post Office is famous. A couple of postmasters had hit on the idea of selling stamps to visitors and even some well-known people. The L.A. Times ran a front page story. Revenues reportedly ballooned from around $20,000 a year to something like $90,000. The Postal Service reportedly now says that revenue belongs to their system, not to Keeler's post office.