This week, the Mono Supervisors, citizens of June Lake and Mammoth Lakes, and Ski Area CEO Rusty Gregory have all talked a lot about the new Ski Area management team, the future of June Mountain and the Main Lodge land trade. An often unheard voice, that of the Forest Service, was also heard.
At The Supervisors' meeting, Mammoth-Mono Lake Ranger Jon Regelbrugge, stood up to say he thought it was time to make the Forest Service position on the issues known. He said the agency was dismayed, like everyone else, when last year Rusty Gregory announced the closure of June Mountain. Regelbrugge said, "We issued a letter of non-compliance to Mammoth Mountain."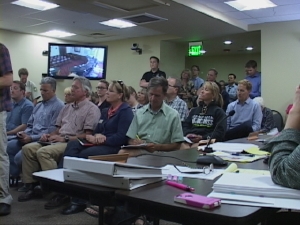 He said the Forest Service investigated the situation. He said they found that what Rusty Gregory had said was true – that the Mountain was in violation of their loan covenants related to the financial problems at June Mountain. The District Ranger said the banks saw Mammoth Mountain as highly leveraged and at risk.
Regelbrugge said the Forest Service has worked with the Mountain to encourage the operation of June Mountain. He said, "We believe they are moving in that direction." He said that the Forest Service believes they will replace Chair 1 at June Mountain. He said that would be relatively simple to approve. More complicated but necessary is the increase of snowmaking. Regelbrugge told the audience that Mammoth Mountain has told the Forest Service that they will submit proposals for both projects in January of 2014. He said the Forest Service understands the importance of ski area success to the County.
Regelbrugge also said that the Forest Service sees the land trade at the Main Lodge as in the public interest. He said the parcel is already encumbered by Ski Area development and is not available for other uses. He added that the land trade will allow the Forest Service to acquire lands they feel are beneficial to the American public. One of those parcels sits near Mono Lake.
He said the pending legislation on this issue is needed. Assuming the Forest Service receives authority to proceed with the land trade, Regelbrugge said it could take two to five years.
Some June Lake residents used the pending lade trade to pressure Rusty Gregory to re-open and improve June Mountain. Supervisor Tim Alpers openly said that before he took his seat on the Board, he, like other residents, called Senator Feinstein's office to make her aware that June Mountain had closed and the possible impacts.
Alpers added that since then he has become convinced that June Mountain will reopen and that Mammoth Mountain will follow through with the development of June Mountain as a complimentary ski area. Some June Lake residents remain skeptical and say they want to see action in the place of promises.