MAMMOTH LAKES RECREATION PARTNERS WITH SIERRA DOG VENTURES
Partnership Seeks to Reduce Pet Waste and Litter on Area Trails
Mammoth Lakes, CA – Mammoth Lakes Recreation announced this week that it is partnering with Sierra Dog Ventures in an effort to reduce pet waste and litter off of area trails.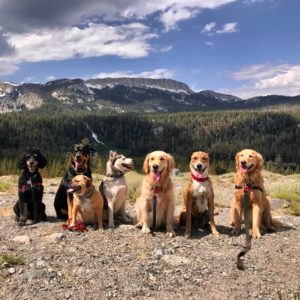 Sierra Dog Ventures, a local dog-walking and adventure camp for dogs, will be donating $2,500 to Mammoth Lakes Recreation to support the Mammoth Lakes Trail System's "Poo Fairy" program. Now in its second year, the Poo Fairy program consists of nine pet waste disposal stations, which are located at various trail heads throughout Mammoth Lakes. The program is currently funded through Mammoth Lakes Recreation and the Town of Mammoth Lakes' Measure U. Sierra Dog Ventures donation will assist in the support operation and maintenance costs for the program.
"Not only is pet waste unsightly, it poses a significant health risk to humans, other pets, and the wildlife with whom we share our trails and outdoor areas," says Matt McClain, executive director for Mammoth Lakes Recreation. "The Mammoth Lakes Trail System's Poo Fairy program has been an important first step in working to address this problem."
Additionally, Sierra Dog Ventures will be partnering with Mammoth Lakes Recreation to host monthly "POOch Patrol" trail clean-up events throughout the area.
"We are so thrilled to be partnering with Mammoth Lakes Recreation and the Mammoth Lakes Trail System on what we hope will grow into a larger movement empowering people (and pups) to leave no trace," says Christi Contois, founder and owner of Sierra Dog Ventures.
Mammoth Lakes Recreation and Sierra Dog Ventures will be kicking off their POOch Patrol program this weekend as part of Mammoth Lakes' Town Clean-Up Day. POOch Patrol volunteers will be meeting at Shady Rest Park this Saturday, May 12th, at 10:00 am. The event is dog-friendly.
About Mammoth Lakes Recreation
Formed in 2014, Mammoth Lakes Recreation's mission is to deliver cutting edge sustainable recreation, mobility, and arts & culture opportunities and infrastructure for the benefit of the community and natural environment of Mammoth Lakes. We work to fulfill our mission by focusing our efforts in three areas: capital projects, advocacy, and entrepreneurship. For more information, go to www.mammothlakesrecreation.org.
About Sierra Dog Ventures
Sierra Dog Ventures is a dog walking and adventure camp for dogs operating in the Mammoth Lakes area. We specialize in group/pack walks but also offer individual walks for those who need it. Because we know you have busy schedules, we will pick up and drop off your dog from your home or office! We cannot wait to meet and adventure with your pup(s)! For more information, please visit: www.sierradogventures.com