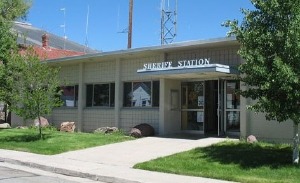 California Government Code states that the Legislature finds that "political activities of public employees are of significant statewide concern." To that end, the Legislature enacted a number of rules that govern election activities and strive to keep the influence of political office at a minimum in elections. One of the codes, which bans politicking in uniform, recently came to the surface in Mono County.
Mono Sheriff Ralph Obenberger had posted two photos of himself in uniform on his campaign website. When Sierra Wave Media contacted him about a potential violation of Government Code 3206, Obenberger said he took the photos off the website while he checked on it. He said he initially spoke to District Attorney Tim Kendall, the State Sheriff's Association and the County Counsel. Government Code 3206 says, "No officer or employee of a local agency shall participate in political activities of any kind while in uniform."
Sheriff Obenberger chose what he called the conservative approach among many interpretations of the code. He said, "I have discussed Government Code 3206 with a number of people, including attorneys, as well as, past and current sheriffs from throughout the State of California. From those conversations it appears that Government Code 3206 can be interpreted in various ways."
Sheriff Obenberger said that to avoid any misunderstanding regarding the interpretation of the Code, "I have decided to act on the most conservative side of the topic, and remove all photos of myself in uniform from my campaign materials and websites."
Sheriff candidate, Ingrid Braun, had posted a photo on her election website in an LAPD uniform from her past employment. She said since she is no longer in Los Angeles employ, Code 3206 does not apply. Braun is currently a Reserve Officer for Mammoth Lakes Police. The Mammoth Police Chief had earlier confirmed she is not campaigning in that uniform.