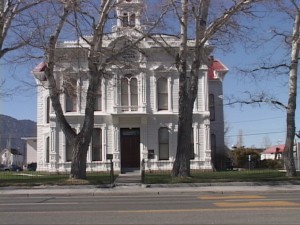 After a lot of debate, a vote by Mono Supervisors allows elected officials to keep conducting political activity on the job while rank and file employees can not.
Supervisor Chairman Larry Johnston brought up this issue and wanted to create a fair rule that applies to all. Johnston said, "If we're restricting employees, we should also restrict elected officials and candidates in their political activities in County offices. For me, the ordinance we came up with did that." Supervisor Fred Stump agreed and said that even if we can't affect national and state politics, we can make them fair locally.
Other Board members did not share their views. Johnston and Stump voted in favor of the new ordinance. Tim Alpers, Tim Fesko and Byng Hunt voted no. County Counsel Marshall Rudolph had come back to the Board with an ordinance that would have included elected officials and all other employees. Because Rudolph referred to no political activity on County premises, things got complicated. First amendment issues were raised and questions about renting County facilities for political meetings. The County Counsel did list a number of exceptions to the rule in the proposed ordinance.
Inyo County has a simple personnel rule that says no political activity on the job, including employees and elected officials. There have been no issues or reported violations over that simple rule. Mono County has a provision that restricts employees from political activity on the job, but the definition of employee does not include elected officials. Instead of changing the definition of employee, the Supervisors and County Counsel focused on an ordinance that restricts activities in County offices and facilities.
Chairman Johnston said fellow Board members "lost sight of the point." He also said, "A reasonable person would not go to a job site and ask people to sign their election petition, but there are people who will. Our ordinance addressed that." Johnston said he is disappointed the ordinance did not pass. Said Johnston, "This is a loop hole that needs to be closed."