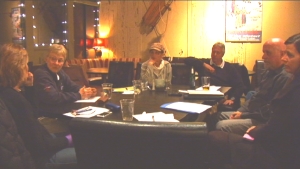 The Mammoth Leadership Forum is trying to stay relevant in an ever changing political climate. This group of politically active residents meet Tuesday's at 6:30 pm at Rafter's in Mammoth Lakes. The Forum's mission is to, "Identify and persuade the best possible candidates for public office and encourage them to run or serve in a public capacity." Furthermore, the Leadership forum supports and assists campaigning candidates and strives to, "identify and exchange ideas, concerns and needs in our community while supporting our elected and appointed officials with developed issues and solutions."
This last meeting of the Mammoth Leadership forum that took place on January 28th had a sparse turnout, with only eight people in attendance, despite their huge email list. One possible reason for the weak showing may have been the fact that a similar group called Mammoth Forward meets at the exact same time. The leadership forum addressed that very issue, and moved to better coordinate with other political groups in Mammoth Lakes. As a matter of fact, the evolution of the forum was a hot point on the agenda with many different ideas coming from current Mono County Supervisor Byng Hunt (who is not running for re-election), Jack Copeland, Sandy Hogan, and more. They discussed how to get, "ideal candidates out of the woodwork," as well as developing new strategies to educate voters about the issues and candidates. Though this is considered the pre- election period they are trying to get candidates to "step up" so they can plan debates on issues. The Forum then spoke of possible candidates and their stances on various issues.
The Leadership Forum's that take place on Tuesday nights is also a place where candidates can come and present themselves to the community and answer questions about their platforms. Stacy Corless, who is looking to replace Byng Hunt as the District 5 Supervisor, was in attendance on the 28th and answered the forum's questions and spoke of her upcoming campaign. Both Kirk Stapp and Greg Eckert are also gunning for the District 5 seat. Corless spoke of her opponents and shared some ideas with the Forum. It may be considered a pre- election period but it appears as though Corless is already hot on the campaign trail.