The Mono County Grand Jury has reportedly questioned a number of witnesses, including the Mammoth Police Chief and members of the Town Council, for an extended investigation into the police department. Tensions have run high, and in May it was alleged that Lt. Jim Short made a statement to police officers about grand jury testimony that was received as a threat by some officers. The Lieutenant maintains he never made the statement.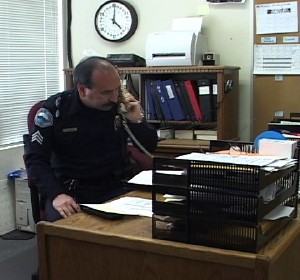 According to sources close to the situation, at a police department briefing Lt. Short said, "We are going to find out who told what to the Grand Jury, and when we do….STANDBY!" Lt. Short denied saying that. Others maintain that he did.
Sources said police officers viewed this statement as a threat to them and to their careers. They shared this concern with Chief Randy Schienle a few days later.
Chief Schienle confirmed that "a couple of members of the Police Officers Association brought the statement to my attention." The Chief said he met with Lt. Short and discussed the incident. Schienle said he was not there when the alleged statement was made. Chief Schienle said, "My comment to the Lieutenant was that if such a statement were made, it was inappropriate."
When asked what he did say, Lt. Short said that he told officers if personal things were said to the Grand Jury, they had to be truthful. Not personal snipes.
Officer Jesse Gorham said he did not interpret Lt. Short's statement as a threat. Gorham said his interpretation was that Short said officers "shouldn't think everything they said to the Grand Jury was confidential. If they were taking cheap shots, standby. People will find out." Again, Gorham said he was not threatened by the statement.
Renee Placensia of the MLPD also said, "Personally, I didn't take it as a threat. I took it that he was upset that personal attacks were going to the Grand Jury. It was just a topic of conversation," she said.
Chief Schienle said there was no internal investigation nor any discilinary action on this incident. Schienele did confirm that the Grand Jury quizzed him about all of this in the course of their investigation.