Mammoth Police Chief Randy Schienle said that he does expect charges, including firearms violations, will be filed against the Victorville man who shot and killed a female bear at Lake Mary more than a week ago.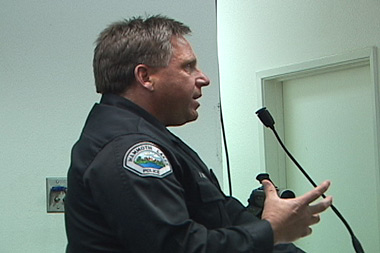 Asked if his department would pursue firearms violations regarding the use of a firearm in town limits, Police Chief Schienle said that in talking with Fish and Game Lt. Marty Markham, it became clear that DFG would pursue the firearms violation issue in their case.
Mammoth Police officers had initially investigated the bear shooting but had determined the case would fall under the jurisdiction of Fish and Game. Chief Schienle did confirm that under a town ordinance, no one can discharge firearms in town limits, including Lake Mary.
The Chief said that he hopes Fish and Game understands the sensitive nature of this case and submits a report soon. Chief Schienle said that he anticipates some kind of charges, including firearms' violations, will be filed against the Victorville man who shot a female bear in the head as she ate his picnic food.
To rumors that the suspect in this case is a member of a law enforcement agency, Chief Schienle said there is nothing to indicate that. As to why the Mammoth Police Department stepped aside for Fish and Game to investigate this incident, Chief Schienle said rather than file two cases, all involved decided to go with Fish and Game and one case.
The Chief said that according to Lt. Markham of Fish and Game, their agency will recommend to the District Attorney to file against the suspect in regard to the town ordinance.