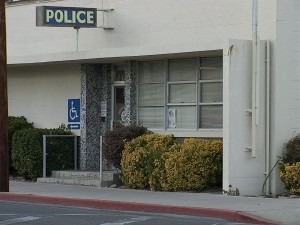 Press Release:
Date of Event:         March 4, 2012 at 4:39 am
Type of Event:    12021(A) PC-Felon Possession of a firearm; 11377(A) HS-Possession of a controlled substance; 11370.1(A) HS-Possession of a controlled substance while armed; 11364 HS- Controlled Substance Paraphernalia; 466 PC- Possess Burglary Tools; and 496(A) PC- Recover known stolen property less than $400.
Location:    150 Pioneer Lane
Suspect:    ROSASCHI, JAMIE ALLEN. 49 Year Old Yerington, NV Resident.
On Sunday March 4, 2012, at approximately 4:39am, Bishop Police Officers were called to 150 Pioneer
Lane – Northern Inyo Hospital – for a possibly burglary. When officers arrived on scene, they made contact with a Northern Inyo
Hospital Security Guard, who advised he saw a suspicious male subject leaving the hospital in a vehicle.
The security guard advised officers, he had a located a bag on the ground with miscellaneous items inside
and he noticed a bike had also been tampered with. Officers noticed a vehicle matching the description the
security guard gave earlier, traveling north bound on Pioneer driving towards the officers.
Officers made contact with the driver, ROSASCHI, Jamie Allen for suspicion of burglary and noticed
several tools, tool boxes, power tools, and several other miscellaneous items inside the vehicle. Further
investigation with ROSASCHI revealed he had vending machine keys and parts inside the vehicle,
as well has firearms and methamphetamine.
Officers arrested ROSASCHI, Jamie Allen for the above listed charges and was transported to the Inyo
County Jail, he has since bailed out on all charges and awaiting his court date.
K. Coffman
Public Information Officer