A 23-year-old with a high blood alcohol and knives brought Mammoth Police to the Cerro Coso Student Housing dorms Wednesday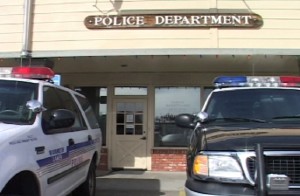 night. The man was described as out of control and in possession of some five knives.
In a press release, officers said that they were told the man was intoxicated and that the reporting party was "holding the door so the suspect couldn't get in. Police said when they arrived the man had retreated into his own dorm room. Officers said they saw "blood on the suspect and on almost every surface in the room." Police said he physically resisted them, and they finally had to resort to pepper spray to get him into custody.
Mammoth Police said they recovered four knives which had been brandished at several students and which the suspect used to repeatedly stab the dry wall. Officers said that one of the knives was actually a two-feet long heavy metal club which, when unscrewed, revealed a ten-inch sharpened blade. Police said with the blade screwed into the handle, the club became a three-feet long spear.
Police said the man's blood alcohol level was .228%. After a medical clearance at Mammoth Hospital, the suspect, Robert Isaac Monroy, 23 of Mammoth Lakes, was jailed in Bridgeport on the charge of possession of an illegal weapon. None of the students or police was injured. Monroy received minor injuries.
Police said they later learned that students and staff had been trying to deal with Monroy for about two hours before they called Mammoth Police. Officers said Monroy did significant damage to the dorms and that additional charges may be filed as the investigation continues.