Press releases
Mammoth Lakes – Students from Coleville, Lee Vining, and Mammoth Lakes will compete in the 7th annual Poetry Out Loud county competition on Sunday, February 5 at Memorial Hall in Bridgeport at 2:00 p.m. for a chance to represent Mono County in the State finals in Sacramento.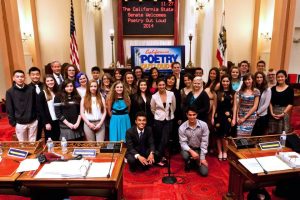 The winner there will go on to compete for the $20,000 prize at the national level in Washington D.C. For the first time, the competition is being held in the County Seat, neutral territory, in the lovely Memorial Hall beside the County Courthouse. Each participating student will present their two favorite poems from the official Poetry Our Loud selection of published poems eligible for this year's contest. The event at Memorial Hall is free to the public.
"We are very excited to be hosting Poetry Out Loud finals for Mono County for the seventh year, having first introduced the program in 2010," said Artistic Director of the Mammoth Lakes Repertory Theatre, Shira Dubrovner. "This year we are excited to be presenting the competition in Bridgeport, a halfway point between Mammoth and Coleville. Supporting Poetry Out Loud is important for students, especially in a small rural county like ours, so that they have the same opportunities as those from large urban areas. I'm truly proud of the students who put in the time and effort to bring poetry to life and present it the way it is meant to be heard."
Poetry Out Loud uses a pyramid structure that starts at the classroom level. Winners advance to a school-wide competition, then to a regional and/or state competition, and ultimately to the National Finals. The winner of the Mono County contest will travel to Sacramento to compete against students from other California counties. The winner of the state competition then travels to the Poetry Out Loud National Finals on April 28-39, 2015, in Washington, D.C., where the winning high school student goes home with a $20,000 award.
Poetry Out Loud, which began in select areas in 2005 and has grown to encompass the entire United States, helps students improve public speaking skills, build self-confidence, and learn about the poetry form of literature. It is an innovative program that encourages high school students to learn great poetry through memorization and performance of the written word. It also incorporates the dynamic aspects of slam poetry, spoken word, and theater into the English and drama class—all of which meet Common Core Standards.
Local judges evaluate each student's performance on six criteria: physical presence, voice and articulation; dramatic appropriateness of the poem's presentation; level of complexity of each poem; evidence of understanding of each competitor for their poems; and overall performance. Students must also present the poem word-for-word and there is an accuracy judge who follows along as the poems are recited to evaluate each student's presentation.
Sponsors include California Arts Council and Mammoth Lakes Foundation.
PLEASE INCLUDE THIS IN YOUR COMMUNITY CALENDAR
WHAT: Poetry Out Loud – Mono County Competition
WHEN: Sunday, February 5 @ 2 p.m.
WHERE: Memorial Hall, 73 N. School Street, Bridgeport, CA (next to the Courthouse)
COST: Free
CONTACT: 760-934-6592; www.MammothLakesRepertoryTheatre.org
INYO COUNTY
Inyo Council for the Arts and Inyo County Superintendent of Schools present Poetry Out Loud in partnership with the California Arts Council, the National Endowment for the Arts, and the Poetry Foundation. Poetry Out Loud is a high school program that teaches students about great poetry through memorization, performance, and competition.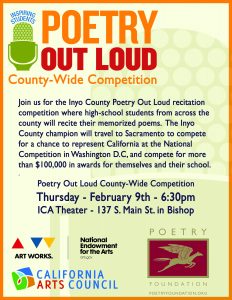 County schools have been participating in classroom and schoolwide contests, with students advancing to the county competition to be held on Feb, 9th – 6:30pm at the ICA Theater in Bishop. The Inyo County champion will advance to the State Finals in Sacramento on March 12th and 13th. She/he will compete for a chance to represent California at the National Competition in Washington D.C. to compete for more than $100,000 in awards for themselves and their school.
The program encourages the study of great poetry by offering educational materials and a dynamic recitation competition to high school students across the country. Poetry Out Loud gives students an opportunity to master public speaking skills, build self-confidence, and learn about their literary heritage.
"Poetry Out Loud is one of many examples of high-quality, partnership-based programs that the NEA offers to schools and communities across the country," said NEA Chairman Jane Chu. "By helping students foster creative thinking skills and inspire self-expression, we are laying a foundation for lifelong learning in the arts."
"When a person is exposed to a love of poetry at an early age, he/she will most likely be a life-long reader of poetry," said Henry Bienen, interim president of the Poetry Foundation. "After ten years and almost three million students later, Poetry Out Loud has created a new generation of poetry readers and lovers who are proof that poetry is a lively and important presence in the classroom and in the culture."
For further information on Poetry Out Loud, visit poetryoutloud.org.
For further information on the Inyo County Poetry Out Loud Competition, call ICA at 760-873-8014 or visit inyo.org