Press release from CDF&W
California Department of Fish and Wildlife (CDFW) officers concluded an extensive deer poaching investigation out of Mono County, resulting in a guilty plea.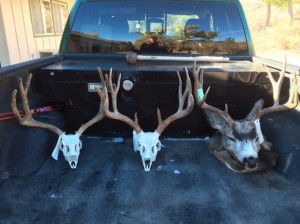 Wildlife officers received several tips from legitimate hunters in Inyo and Mono Counties who reported suspected poaching activities from Gary John Watters, 56, of Crowley Lake.
Between the tips and the follow-up investigation, wildlife officers suspected Watters of poaching very large bucks illegally, including deer taken out of season. Multiple bucks were also allegedly taken by Watters within "no-shoot" residential areas in close proximity to homes in the June Lake and Crowley Lake areas.
In addition, the legitimate hunters monitored Watter's social media posts where he boasted of killing the large deer during extreme backcountry archery hunts.
Wildlife officers' investigation revealed evidence suggesting that Watters killed trophy bucks in a premium "X" deer zone, while claiming that the deer were taken legally in the more easily obtained "D" deer zones.
Evidence collected at several different poaching crime scenes in residential areas yielded an abundance of excellent quality fresh deer DNA samples. Analysis of the DNA proved he took the most recent large buck in the backyard of a home without permission of the homeowner, within ten yards of the house.
Analysis of hunting tag and reporting records indicated that two large bucks were reported taken during open seasons in Fresno and Tuolumne counties, but in fact, were illegally taken during the closed season in Mono County.
"Persistent tips and close scrutiny of social media posts by legitimate hunters were a big part of this case," said Lt. Bill Dailey, who supervises wildlife officers in Mono and Inyo Counties.
On December 14, 2015, Mono County District Attorney's Office filed nine misdemeanor poaching related associated with the case, including unlawful taking deer out of season, hunting deer without a valid license, hunter trespass, discharge weapon near a residence, unlawful discharge of a weapon, false information on deer tags, deposit dead animal near waterway, and two counts of unlawful possession of deer taken in violation.
In February 2016 Watters entered a plea deal with the Mono County District Attorney's Office for to one misdemeanor count of unlawful take of a deer and one infraction count of unlawful discharge of a weapon in a county no shoot zone.
On February 22, 2016 Watters arrived at the Mammoth Police Department where he was booked and released as ordered by the court. Watters also received a $760 fine / penalty assessment, 400 hours of community service, and cannot hunt in any state for three years.
###
This is the fourth year of California's drought. To learn about all the actions the state has taken to manage our water system and cope with the impacts of the drought, please visit drought.ca.gov.
Every Californian should take steps to conserve water. Find out how at saveourwater.com.