Press release
Tickets are now on sale for Playhouse 395's upcoming production of the widely acclaimed and highly entertaining musical SUDS.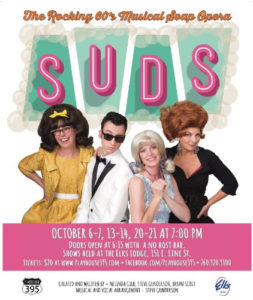 This ultimate soap opera, set in a 1960s laundromat, is sure to provide an evening of great entertainment and music that is not to be missed.
Although SUDS the Musical is not familiar to many, it has been performed throughout the country for over a decade, delighting audiences with the sheer artistry and fun of the production.
The plot combines sensational 1960s clichés and puns, two guardian angels, a mailman who brings nothing but bad news, and a drama queen who wears her heart on her cardigan sleeve.
Bringing this play to life here in Bishop will be four favorite Playhouse actors who have been thrilling audiences in many past productions.
The all-star cast of Patti Cook, Patricia Barton, Michelle Dossey and Jordan Kost has been busy rehearsing for this production since May.
They are working under the skillful and creative direction of other Playhouse veterans, Director Ron Valenzuela, Choral Director Dave Hardin and Choreographer Jose Pizana. Mary Baker has designed the very creative laundromat set.
SUDS is loaded with good clean fun, bubbling energy and over 35 rock classics of the 1960s such as Connie Francis's Where the Boys Are, Nancy Sinatra's These Boots Are Made For Walkin', Aretha Franklin's Respect, James Brown's I Feel Good, and the Beatles' Do You Want To Know A Secret.
According to Director Ron Valenzuela, many of the harmonies require a certain finesse in order to inspire a certain style and mood for the play. During some of the medleys three songs are performed simultaneously requiring talent and creativity and a lot of rehearsing to perfect the performance.
One of the things that Valenzuela loves best about this play is that it lends itself to an intimate audience.
"We were lucky to be able to partner with the Elks Club. Each performance will be brought to life at the Elks Lodge, which will be transformed into a 1960s Las Vegas Lounge. Come for the fun and a great evening of music and entertainment."
Valenzuela encourages people to dress in their 60's finest, but cautions that women should not have 'beehives' as they can block the view of those sitting directly behind!
SUDS will be performed on October 6 & 7, 13 & 14, and 20 & 21, at 7:00 PM, at the Elks Lodge located at 151 E. Line Street.
Doors to the lounge will open 6:15 with a No Host Bar. Tickets are $20 each and are available at www.playhouse395.com or http://www.brownpapertickets.com/event/3046645.
For more information please call 760-920-9100.