Playhouse 395 issued the following press release:
If you've ever sat through a theatrical or musical performance and not understood a word that was spoken or sung, you'll be happy to know those days are over in the Dorothy Joseph Auditorium of Bishop Union High School. Thanks to a generous grant from the Deininger Foundation and the extraordinary efforts of Playhouse 395 volunteers, a state of the art sound system produces clear words, rich music and a wide variety of sound effects.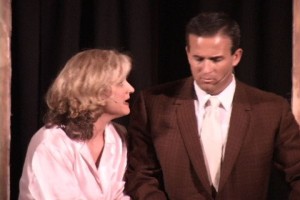 To inaugurate the sound system and publicly thank the Deininger Foundation, Playhouse 395 recently hosted an evening of entertainment demonstrating the qualities of the system. The evening also showcased a bit of local talent producing a variety of sounds. Saxophonist Pat Powell produced his signature smooth and mellow musical serenade, BUHS sophomore Anna Herbst amazed the audience with her vocal range, fully supported by the excellent sound system, as she debuted "How Lovely to be a Woman" from the upcoming Fall Youth Theatre production of Bye, Bye Birdie which, by the way, runs this November 11-19. Finally Jessica Burchett, recently renowned as "Nellie" in South Pacific, treated the audience to a delightfully humorous interpretation of "Taylor the Latte Boy" which she will sing during Playhouse 395's Broadway Revue Fundraiser this coming weekend, October 7-8.
In addition to Taylor, the Broadway Revue will feature 15 songs and skits from past productions and some surprise acts, such as Beauty and the Beast, Guys and Dolls, Les Miserable, Willy Wonka and Grease. For tickets and more information about Playhouse 395, visit www.playhouse395.com or call 760-920-9100.
"We are most appreciative to the Deininger Foundation for providing the generous grant that made this sound system become a reality," said Katharine Allen, Playhouse Board of Directors President, her voice flowing evenly and silky over the audience. "The High School, the numerous community events held in the school theater, Playhouse 395, and the public will all benefit from the system." She went on to explain, "The sound is pure, clear and strong, and there are no longer any "down" places in the theater where it's hard for the audience to hear. And the system's new sound effects that we've just begun to explore are sure to add magic and enjoyment to everyone's live event experience."
The new sound system has been in the works for almost 2 years. It was designed and purchased through an approximately $60,000 grant from the Deininger Foundation and in cooperation with the Bishop Unified School District and high school administrators. The thousands of feet of cable, array of speakers and other elements of this state of the art sound system were installed by Playhouse 395 volunteers Dan Totheroth and Derik Olson and others. Playhouse 395 leveraged the generous Deininger grant with hundreds of hours of volunteer work and many other donations to provide the High School and community with a system valued at over $120,000.
At the inauguration event Ms. Allen presented a plaque and beautiful bouquet of flowers to Leslie Chapman, local representative of the Deininger Foundation. Past Board member Mary Daniel was also honored for her work on this project and her years of dedication to Playhouse 395.
Ms. Allen also celebrated the return of Drama as a class at BUHS. Thanks to collaboration between Playhouse 395, BUHS principal Al Van Velzen, and teacher Natalie Vargas, students who participate in the Drama class and Playhouse 395 productions will earn fine arts credit toward college entrance.
The new sound system includes more than 8,000 feet of wire and cable throughout the theater. It features a new state-of-the-art digital sound board and a second portable board that can be used to provide sound for events outside of the theater. Theater-goers will see a huge new speaker array hanging securely above the stage that provides smooth and consistent sound throughout the venue. The grant funding was also used to purchase new wireless microphones for actors, remote speakers to surround the audience, and many other features to dramatically improve the audience's sound experience in the theater.
Since its founding in 2005 and incorporation as a nonprofit organization in 2007, Playhouse 395 has been almost entirely dependent on volunteers. Annually more than 200 people step forward to help with the organization's highly successful theatre productions and other activities. These include actors, producers, directors, costumes, lighting, stage crew, sound system, production workers and musicians. In addition, Playhouse 395 is overseen by a volunteer Board of Directors and a dedicated crew of lead volunteer directors, many of whom have full-time jobs or are students.
This small theatrical arts organization has continued to grow at a steady pace, and now produces at least five shows annually, including two Children's Theatre Workshop musicals, a teen musical, an all-ages musical and the Broadway Revue fundraiser. Casts also frequently perform for other community events such as at the Tri County Fair. In addition, Playhouse 395 provides light and sound services for many outside groups presenting at the Bishop High School Theater, such as the Community Concert Series.