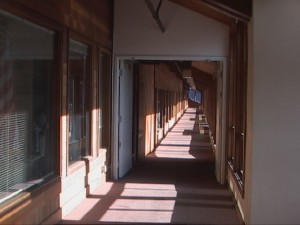 The Mammoth Lakes Planning and Economic Development Commission met Wednesday to review and comment on proposed zoning for Adult Businesses and on the hiring of a Community and Economic Development Director.
Senior Planner Sandra Moberly said that the Commission accepted the staff report on the zoning proposal for adult businesses. She said no one has come forward with a business proposal, but, she said, the First Amendment does protect adult businesses, Mammoth can not prohibit them, and must address them in the zoning code. Moberly said the Commission had some questions and that the issue will go out for public review this summer.
The staff report on this issue says the current code is outdated and not consistent with current state and federal law. The Planning Staff proposed several regulations intended to restrict areas in which adult businesses can operate in Mammoth Lakes. The report recommends location in the Industrial Zone only, 500 feet away from a residential zone, school, park or religious institution. Planner Moberly said the location in Mammoth would be the Industrial Park and Commerce Dr.
The Commissioners also reviewed a job description for the hiring of a Community and Economic Development Director. Commissioners said they wanted more weight on the economic development duties of the position. The recruitment plan for this top job in the department lays out an advertising plan with the application deadline at May 24th. If there are five eligible candidates, two panels will interview them the week of June 10th – the community panel of Jim Smith, Chuck Lande, Matthew Lehman and Rhonda Duggan; plus, the professional panel of Sandra Moberly, Ray Jarvis and Scott Burns. The Town Manager will then interview the top two or three candidates. The baseline salary for this position would be up to $150,000 per year with a maximum total cost, including benefits, of $226,000.