A pilot walked away after mechanical troubles forced him to land on one of the islands in Mono Lake.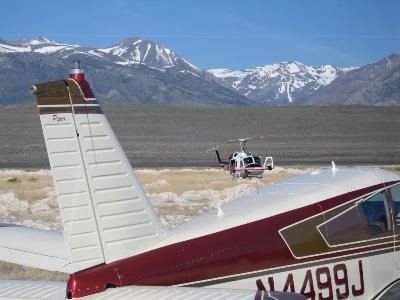 Jim Pence with the Mono Lake Tufa State Natural Reserve reported that at about 11:00 am on Monday, a pilot headed for the Bay Area, landed on David Gaines Island after taking off from the Lee Vining Airport.
Flying a Piper Cherokee, the pilot was working to gain elevation to cross the Sierra, when he experienced carburetor problems possibly related to a fuel pump malfunction. When the plane lost power, the pilot headed toward the beach at Black Point, but came up short.
David Gaines Island is near the land bridge that leads to Negit Island. Pence explained that as Mono Lake refills with water after the agreements with the City of Los Angeles, someday David Gaines Island will be under water. As of Monday, however, the island is still above the water and the pilot was able to land the plane there.
Both the pilot and his dog were able to walk away from the emergency landing. Pence said that the landing area is covered with cobblestone sized rocks, but the pilot managed to land the plane undamaged in about 100 yards of runway. He is a good pilot who made a quick decision, Pence explained.
The nearby islands are currently covered with 40-60,000 nesting seagulls. In order to get the plane off the island with as little impact as possible, crews are expected to pick the plane up by helicopter Wednesday morning using a long line technique to pick the plane up from above without landing the helicopter.