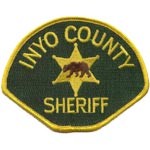 (Press release – ICSO)
Info from Sequoia & Kings National Park-
On Tuesday, September 16, Park Rangers from Sequoia & Kings Canyon National Parks participated in the successful rescue of a 67-year old man from San Jose whose plane crashed in a remote area of Sequoia National Park. The plane was reported missing when it failed to arrive as scheduled in Lone Pine, CA, on Monday afternoon.
The park was notified around 3 am on Tuesday morning that a transponder signal had been traced to the Forgotten Canyon area of Sequoia National Park. At approximately 9 am on Tuesday morning, the Civil Air Patrol spotted the wreckage near Funston Lake and made visual contact with the pilot. The park helicopter was used to insert a Parkmedic and investigators at the crash site. The patient was stabilized and transported to the Ash Mountain helibase where he was transferred to a waiting SkyLife air ambulance and flown to an area hospital.
The National Park Service is coordinating the investigation into the cause of the crash with the National Transportation Safety Board and Federal Aviation Administration.
The California Office of Emergency Services and Tulare County also assisted with this search and rescue operation.