Updated Friday at 4:00 pm.
At 4:30 Wednesday afternoon emergency crews responded the Twin Lakes Tract near Mammoth for a report of a downed aircraft. There were two people on board the plane, both were killed.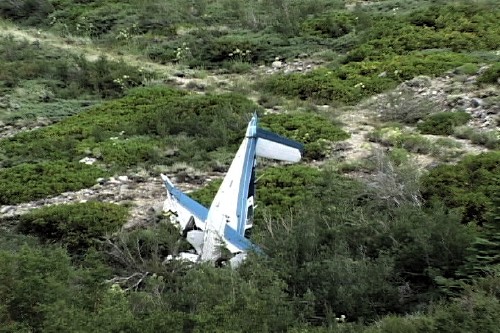 Friday, the Mono Sheriffs department released the names of the two victims. Killed in this accident were 52 year old Alan Hall of Dallesport, Washington, and 54 year old Sherril Wilson of Turner, Oregon.
With witnesses waving the first responders in, emergency crews fond the downed plane east of the Twin Lakes Tract about a quarter mile from the General Store.
Richard and his son Travis from Monrovia, witnessed the accident from a nearby cabin. Richard says that the plane was headed up canyon when he heard the plane gun its engine and make a hard bank to the left. The plane then clipped a tree and wobbled from side to side, like when a pilot dips his wings to say hi, he reports. The plane then clipped another tree and rolled straight into the ground. After the second tree, Richard said that the plane basically dropped.
The terrain was marshy where the plane hit, leaving Richard to say that he had heard louder car crashes. He ran to the scene, thinking he might help the people in the plane, but soon realized that no one survived.
Mono Sheriff Officials report that the aircraft was traveling from Phoenix, AZ enroute to Washington when the pilot landed at the Mammoth/Yosemite airport to refuel. Upon takeoff, it was reported that the aircraft was flying very low. The cause of the crash is currently under investigation by the FAA and National transportation and Safety Board.