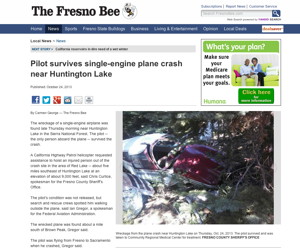 The pilot of a single-engine airplane survived a crash near Huntington Lake in the Sierra National Forest late last week. That pilot is believed to possibly be a local resident.
According to the Fresno Bee, A California Highway Patrol helicopter crew requested assistance to hoist an injured person out of the crash site which was at an elevation of nearly 9,000 feet. According to the Bee article http://www.fresnobee.com/2013/10/24/3570062/crashed-airplane-found-near-huntington.html the pilot's condition was not released but search and rescue crews saw him walking outside the plane. The Bee also said the pilot was flying from Fresno to Sacramento when he crashed.
The Fresno Bee reported that according to FAA registration information, the plane is owned by Arnie Peterson of Big Pine and by Paul Baldwin. The pilot reportedly radioed Fresno air traffic control to report low oil pressure and that he was going down in the Sierra. The crash remains under investigation.