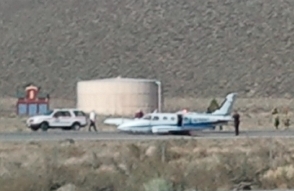 From Stuart Brown of the Town of Mammoth Lakes –
"At approximately 4:20 p.m. on Friday, April 27, 2012 at the Mammoth Yosemite Airport (MMH), a twin engine Cessna general aviation (GA) aircraft landed "gear-up" on the runway without causing major damage or personal injury.  Airport personnel responded, as did the Long Valley and Mammoth Lakes Fire Protect District's, in addition to The Mammoth Lakes Police Department.
The aircraft was towed from the runway, allowing Alaska Airlines Flight No. 2196 from Los Angeles to land at approximately 4:53 p.m.
The Mammoth Yosemite Airport has resumed full operations."                                                (Image provided by Cleland Hoff)
Long Valley Fire Chief Fred Stump said that the statement from the pilot was that he thought his landing gear was down. He said he heard no alarm indicating that it wasn't.  Chief Stump said that the plane did not actually crash but skidded along the ground.  He said that there was no fuel leakage, although the propellers were damaged.
Chief Stump said the pilot and his wife got out of the plane,  carried their own luggage and declined medical treatment.  The wife was heard to comment that this was "the softest landing without landing gear that we've ever made."