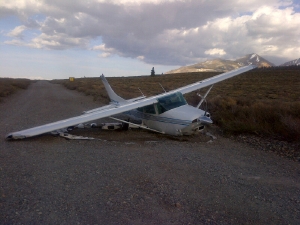 Late Saturday afternoon, a couple and their dog flying over the Mammoth Lakes area apparently lost power but managed to maneuver what authorities called a controlled crash landing on Sherwin Creek Road.
Reports said the aircraft, which was a Cessna, was unable to maintain power. The pilot put down the plane just past the big propane tanks on the way to the campgrounds. The pilot, his wife and their dog all walked away uninjured, according to reports.
A tow truck moved the plane a short distance from where it crash-landed to an area which did not block the road. When 9-1-1 calls started to pour in, multiple agencies responded to the crash site.