Four people were injured but no one died in a Sunday morning plane crash at Mammoth-Yosemite Airport.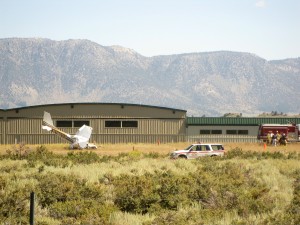 Mammoth Police Sergeant Karen Smart said that at about 8:20 Sunday morning a Cessna 172 headed to the Ridgecrest area crashed nose down on the runway on take-off.
On board was the pilot, David Tharp, and his wife Katherine of Ridgecrest. Their friends, Thomas and Karla Miller of Lancaster were also on board. All had come to the Mammoth Lakes area for the weekend and were on their way home, Sgt. Smart explained.
The accident occurred on take off. Sgt. Smart said that the pilot described being hit with a downdraft that he couldn't power through. As the plane hit, the wing caught the ground, which spun the craft around. All four people on board suffered minor to moderate injuries from the impact, which included broken bones, cuts, and bruises.
One witness to the accident, a volunteer with the Mammoth Lakes Fire Department, was first to arrive at the plane. With leaking fuel and fear of a possible fire, the man assessed the patients and decided to help them get out of the plane.
The Long Valley Fire Department, Mammoth Fire Department, and Mono Paramedics, responded to the accident. The four people on Board were taken to Mammoth Hospital for treatment.
At last word, the plane remained on the runway at the Mammoth Yosemite Airport pending an National Transportation Safety Board investigation.