A tragedy narrowly averted today as three men walk away from an airplane crash in Bishop.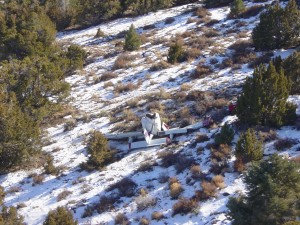 Friday afternoon at about 3:15, emergency workers in the Bishop area received the report of a downed airplane at the Bishop Airport. When the Bishop Volunteer firefighters and Airport crews arrived at the scene off the end of the runway, they found a pink single engine plane augured into the soft dirt.
Considering how badly a small plane crash can go, the three men in the plane were relatively uninjured – just a few bruises. The three were returning home to Columbia, in the foothills of the Sierra Nevada, from Saline Valley, stopping at Bishop to re-fuel. When they took off for the final leg home, the pilot said that the engine started to misfire.
Having already left the ground and with too much speed to stop before the end of the runway, the tracks of the plane could be seen leaving the runway into the soft dirt toward east Line Street.
With an oncoming barbed wire fence, the pilot slammed on the brake, skidding the plane to stop. The hard and fast landing left the wing damaged but the people inside, alive. One flight instructor who we spoke to said that the pilot did everything right and avoided what could have been much worse.