There is a movement afoot to name an unnamed Sierra Peak after Andrea Mead Lawrence, Olympic gold medalist, environmental activist and local politician.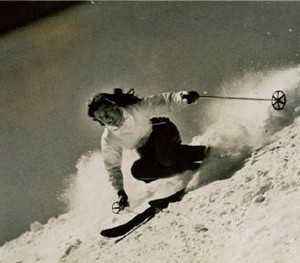 After a lifetime of working to protect the Eastern Sierra, supporters would like to honor Lawrence by naming a Sierra Peak in her honor.
In the old days, a surveyor could simply name a peak after a geology professor and be done with it. In modern times, re-naming a peak can be a lengthy and uncertain process. In 2008, Senator Dianne Feinstein introduced legislation to re-name North Palisade out of Big Pine after environmentalist David Brower. That legislation had been brought to Feinstein by a group called the Committee for Brower Palisade and faced opposition from people who liked the current name for the prominent and popular peak. This effort died in Congress and at last word there had been no attempt to resurrect the Brower Palisade legislation.
This new naming effort may stand a better chance as the proponents have chosen an unnamed Sierra Peak to honor Lawrence.
According to a draft of a letter that the Mono Supervisorsplan tosend to Senators Barbara Boxer and Diane Feinstein along with Congressman Buck McKeon, the peak in question is located just east of Donahue Pass. Peak 12,223 is also near the headwaters of Rush Creek, an important tributary to Mono Lake, a favorite cause of Lawrence.
If all goes according to plan, Peak 12,223 will be named either Mt. Andrea Lawrence or Mt. Andrea.